Surgical lights are necessary in hospitals,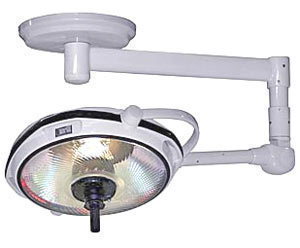 especially the operating room. For this reason, the quality of the light must be chosen carefully. Aside from the size, other features have to be looked into.
Surgical Light Sizes: DRE Maxx Luxx II Operating Room Lights
The lighting system has a light intensity of one meter (102,000 lux (9,500 ft-candles). The illumination depth is 48". The color temperature is 4000 K. The light diming setting is 50% – 100%. The primary light source is a 150 W Tungsten halogen bulb. The secondary light is also a 150 W Tungsten halogen bulb. The bulb life is 1000 hours.
The dimensions of the light head are 23.0" diameter X 14.0" high. The maximum arm length is from the middle mount up to the light. Other features include a 20" facetted Alzak aluminum reflector, /R filter glass and continuous lamphead rotation. The vertical arm movement is +20,-70 degrees.
The mounting height is 96" (2438 mm) minimum and 156" (3962 mm). The extended arm coverage is up to 72" (1829 mm). Another feature of the DRE Maxx Luxx II is the auto-switcher. In case one of the primary light bulbs fails, it will automatically switch to the other ones. The outer head diameter is 18" (470 mm).
Surgical Light Configuration
Aside from the surgical light size, the surgical procedure will determine the light type to get. It also depends on the operating table layout. Three layouts are commonly used. The ceiling mount surgery light is utilized in various operating rooms. The mobile stand surgery light is frequently used in emergency rooms and by OB/GYNs.
The wall surgery lights are used in various examination rooms.Lighting systems also come with accessories like remote control, video cameras and many others.
Whether you need them or not depends on the surgery process. For instance, cardiac surgery requires more light than dermatological surgery. If you need more power, get lights with dual heads. The lights can be bought in single, double or triple head configurations.
Before you purchase the lights, make sure that it will accommodate the surgeries that will be performed. The cost of these lights will range from a few hundred to several thousand dollars.
The cost will be affected not just by the surgical light size but also accessories. If you cannot afford to buy a new one, there are several refurbished lights that are available on the Internet today.