What is the size of Nevada?
What is the size of Nevada? If you are concerned how big or small is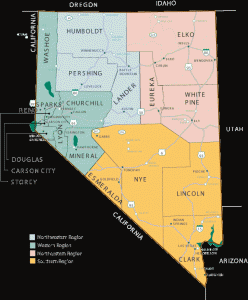 Nevada compared to other states, you have come to the right page. In this article, we will give you the basics on the size of Nevada and some other facts that may interest you.
The Seventh Largest State
Nevada is the seventh largest state covering the Great Basin in the northern part and the Mojave Dessert in the southern part. It has an area of 110,567 square miles or 286, 367 square kilometers. Nevada is a mountainous state that experience semiarid and desert climates, which is hot during summer (at 46 degree Celsius) and cold during winter (at -12 degree Celsius).
As of 2008, Nevadans account to 2.6 million residents, ranking 35th in the United States. The largest and most widely populated city in Nevada is undoubtedly Las Vegas, which is the heart of the state's lively industries. The capital city of the state, however, is Carson City.
Other Interesting Facts About Nevada
Nevada is home to many successful industries. It is best known for its easy marriage and divorce, gambling, and entertainment. People who want to have some fun usually troop to Nevada because that's what the state stands for. There is no dull moment when you are around town. You have the option to either enjoy lively entertainment or the relaxing beach life. Whichever way to go, you will definitely be treated to one of the best vacations of your life.
For the most part, Nevada is known as a state that house active brothels that are legalized. Yes, prostitution is legal in some parts of the state although counties have to adhere to some requirements to be able to and may choose not to if they wish.
With its active entertainment industry coupled with agriculture and mining, Nevada's economy is worth over a hundred billion. Nevada enjoys an economic advantage as a whole. Then again, that is not always good news. In fact, it's being highly progressive is also the known trigger for some bad news. Nevada is currently facing issues regarding population. Overcrowded schools and roads are common problems. Rising crime rates are also seen. Nevada also ranks third as one of the worst states in terms of managing litter in public properties next only to Mississippi and Louisiana.
No matter what, Nevada remains to be an interesting state to have an adventure on. With its many offerings for fun and entertainment, it is no longer surprising that tourism takes the biggest slice of the state's income pie.