What is the Size of a Home Theater?
Home theater sizes will depend on how much space you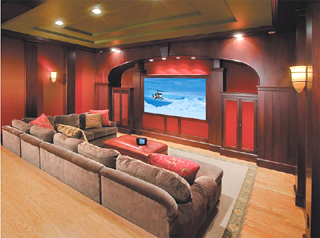 have available or willing to set aside. The following are some basic facts you may want to consider.
Decide on the Room Size
This is very important. Before you purchase any of the equipment, make sure there is enough room for the TV, speakers, seats and any additional furniture you want to add. A good sized room will be 22 ft long, 11 ft wide and it should be 82 inches high.
That is a very rough guide though. If you can set aside a bigger room, go for it. If you have a smaller room, you have to put in fewer furniture and equipment. Tip: the ceiling should not be too high. It will allow you to set up lights that will decorate the room.
Set up a Closet Space
When considering the home theater sizes, closet space should be considered. Dimensions will vary, but you can start with a closet space measuring sixty one (61) inches wide, 80 3/4 inches high and 40 inches deep.
This reserved space can also be used for making a bar. The bar should have all the beverages you need for an enjoyable home theater experience.
Note: if necessary, have some walls removed to make room. The cost for bringing in a demolition team will depend on the amount of work to be done. Talk with different contractors to get various price quotes.
Add Safety Features
Do not allow yourself to be so caught up with figuring out the home theater sizes you forget to add safety features. If the home theater is in the basement of a room, ensure it is waterproof.
This is not as hard as it seems. You just have to make sure the walls are dry locked and put in the pump and drain. You will also need to have a fire extinguisher ready in case of a fire.
Research the Products before You Buy
The physical dimensions of the components will vary per product. This will be specified in the manufacturer's website. But it is not just the individual sizes that matter; the spacing required by these items must be assessed.
For example, the satellite speaker systems consist of the right, left, center and the subwoofer. To get the best performance, the speakers may have to be placed several inches or feet apart. The spacing will also have to be addressed if you plan to install ceiling and wall speakers.
Tips
Make sure there is room for people to move around. The seats should be spaced evenly so people can get up and about comfortably. If there is a bar, it should not be too near the TV to cause a distraction. The room should be set up properly to make sure spacing is adequate.
Ultimately, the best home theater size will have to be determined by you. By taking into account the spacing for the speakers, the bar / closet space, setting up the ideal home theater will be easy.