What are the Dimensions of the Empire State Building?
One of the tallest skyscrapers in the world, the Empire State Building is found at the intersection of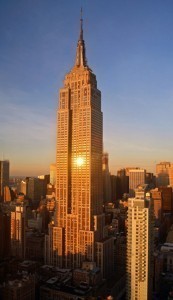 West 34th Street and Fifth Avenue in New York City. In the Americas, it is considered the fourth highest freestanding structure. Worldwide, it is the eleventh highest. Because of these amazing feats, many people find it highly interesting. In order to become more familiar with this awesome structure, it is good to know the different dimensions of the Empire State Building.
Dimensions of the Empire State Building
What are the dimensions of the Empire State Building? In terms of height, this building stands way above the others at 1,250 feet. This measurement is only up to the 103rd floor. If you include the pinnacle, the length of which is a little more than 203 feet, the total height of this building goes up to 1,453 feet and 8 9/16 inches. From the level of the street all the way up to the 103rd floor, the total number of steps is 1,860.
In terms of total floor area, this building covers 2,768,591 square feet. The total number of faucets available inside is 9,000, while the total length of the electrical wire used is 2,500,000 feet. The height of the top floor is 1,224 feet. If you are to include the spire/antenna, the overall height goes up to 1,472 feet.
Additional Information and Other Interesting Details
The Empire State Building was constructed from 1929 to 1931. From that point in time, it was regarded as the tallest building worldwide until 1973. After that, it was surpassed by the World Trade Center. The total floor count is 102. A total $40,948,900 was spent for its construction. Floodlights were added to the building some time in 1964. These lights are highly recognizable especially during special events and other important occasions like Independence Day, Christmas and Saint Patrick's Day.
More than 110 million people have already visited this skyscraper. One of its major highlights is the observation deck at the 86th floor. This spot in the building offers people a 360-degree panoramic view of the entire New York City. Because of the amazing view that it offers, it has been used in making literary classics, television shows as well as films.
Because of its massive and gargantuan frame, the American Society of Civil Engineers named it as part of the so-called 'Seven Wonders of the Modern World.' In 1986, it was considered a National Historic Landmark. In addition, the American Institute of Architects granted it the top spot of its List of America's Favorite Architecture.