Shooting Target Dimensions
For people who wish to test their s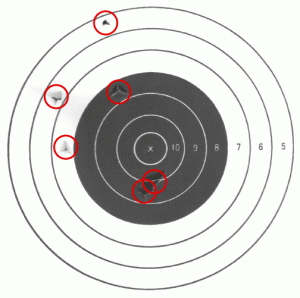 peed and accuracy, it is good to get involved in different shooting sports, one of which is target shooting. It usually involves the use of air guns and firearms like the shotgun, handgun and rifle. One of the international organizations involved in this particular type of sport is the National Rifle Association, which is based in the United Kingdom. In addition to these details, it is also nice to know the different shooting target dimensions.
The Dimensions of Shooting Targets
As one of the most respected international organizations involved in target shooting, the National Rifle Association features different kinds of long gun shooting and high power rifle targets. For 100-yard events, the appropriate items are the LRS, the SR21C and the SR1. The first type measures 14 inches by 42 inches, the second type 10.5 inches by 10.5 inches, while the third type measures 21 inches by 24 inches.
For 200-yard competitions, the appropriate types of targets are the ARMYA, the SR42 and the SRC. The ARMYA target measures 24.5 inches by 24.5 inches. The dimensions of the SR42 target are 28 inches by 28 inches. The SRC target measures 24 inches by 24 inches.
Targets for 300-yard events are also available. These include the LRP, the MR63 and the SR3. The LRP is used in the United States as a target for Palma Team Tryouts, which measures 21 inches by 24 inches. Meanwhile, the MR63 is used for slow-fire weapons, the dimensions of which are 35 inches by 35 inches. For rapid-fire 300-yard events, the standard target is the SR3, which measures 40 inches by 42 inches.
For 500-yard events, the most commonly used are the MR65F, the MR65C and the MR targets. Classified as an F-Class target, the dimensions of the MR65F target are 37 inches by 37 inches. For the MR65C target, the usual measurements are 19 inches by 19 inches. For the MR target, the usual size is 67 inches by 72 inches.
Three different targets are used for 600-yard events, which are the MR1FC, the MR1C as well as the MR1. As an F-class target, the MR1FC comes with seven rings and measures 32 inches by 32 inches. The MR1C target has the dimensions 37 inches by 37 inches.
For slow-fire weapons in 600-yard events, the MR1 is the standard target, which measures 67 inches by 72 inches. For events that are between 800 and 1,000 yards, the three common types of targets are the LRFC, the LRC and the LR. The first one measures 26 inches by 26 inches, the second one 45 inches by 45 inches and the third one 67 inches by 72 inches.