A wedding ceremony is wonderful. It's simply a blissful moment that you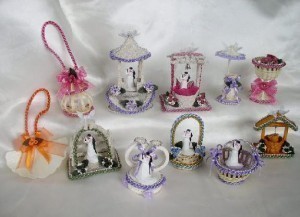 would like to etch in memory with your lifetime partner. And since the guests who attended added to the special moment of the event, it is but appropriate for you to show how much you appreciate their time and support by giving wedding souvenirs. But what would the wedding souvenir sizes be? And what kinds of items should you choose?
Wedding Souvenir Sizes
When it comes to shopping or preparing for those wedding souvenirs to give away to guests, various sizes measured in different dimensions are offered by a lot of online and offline shops.
There are some shops that offer these mementos at around 8 by 12 inches. Others offer items around 20 centimeters for its diameter and around 3 centimeters for its height.
Those who offer miniature cakes and other assorted sweet treats sell their products with sizes of around 2.5" by 2.5". Some have two choices for the measurements: Around 3.5 inches and 6 inches. You may also find some small cakes with 12 by 5 inches. Other shops offer mini cakes with sizes of around 3 inches up to 8 inches. For these treats, you can make your order in advance for 100 pieces or more – depending on the number of people you need to hand these souvenirs to.
You can also choose from personalized items to give away with sizes of around 5.5 by 2 inches. Minimum orders are typically at ten pieces; maximum orders can reach up to a hundred pieces and above.
Wedding Souvenir Choices
While sizes are usually cited by the shops, other valuable information is also given for you to have an easier time to choose the most suitable items. Such information include: the types of souvenirs (which may range from adorable shirts that come in various designs and styles to delicious sweets like candies or chocolates).
Here are some possible items that you can choose from:
One: Personalized Items
Personalized items include candles, candle holders, match books, and others. If you choose these types of giveaways, you can choose to spice them up to add more flair. Try tying a bow or wrapping them in decorative papers.
Two: Sweet Treats
For sweet treats, there are mini cakes, candies, and chocolates. You can order them by the dozens if you like.
Three: Unique Mementos
Unique items for wedding souvenirs can be as simple as a bottle stopper and as elegant as a gold or glass wedding favor.
So, you see, the choices are many. It might help, though, if you narrow down on the particular wedding souvenir sizes and what kinds of products you really wish to give. After that, you may check out the possible items that fit those requirements.