The following list of the wealthiest nations per capita is based on statistics from the International Monetary Fund (IMF). The figures are for the year 2010 and in international dollars.
The Top Ten
Number one is Qatar with 88,232 GDP per capita. At number two is Luxembourg with a per capita of 80,304. The third spot belongs to Singapore with 57,238. The number four slot belongs to Norway with 52,238.
The fifth richest nation is Brunei with 47,200. The number six spot belongs to the United States with 47,123. Hong Kong is next with 45,277. Note: Hong Kong is not considered a country, so its ranking of seventh is not "officially" recognized.
At number seven (without Hong Kong) is Switzerland with 41,765. The Netherlands is number eight in the list of the wealthiest nations per capita. Its GDP per capita is 40,777. At the ninth spot is Australia with 39,692. The tenth spot belongs to Austria with 39,454.
Number 11 to 20
Canada is at number 11 with 39,033 per capita. Ireland is at the 12th spot with a GDP per capita of 38,685. At 13th place is Kuwait with 38,293. Sweden is at the 14th spot with 37,775. At number 15 is the United Arab Emirates with 36,973.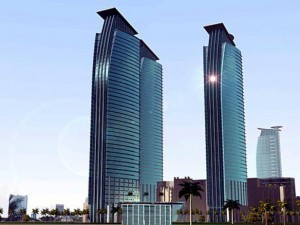 The 16th richest is Denmark with 36,764. The 17th wealthiest is Iceland with 36,681. Belgium is at 18th place with 36,274. The 19th richest is Germany with 35,930. At number 20 is the United Kingdom with 35,053.
Number 21 to 30
At number 21 is the Republic of China (Taiwan) with 34,743. At number 22 is Finland with 34,401. France is the 23rd richest with a per capita of 34,092. Japan is number 24 with 33,828. South Korea is at number 25 with 29,791.
Spain is at number 26 with 29,651. Italy is at number 27 with 29,418. The 28th richest is Israel with 29,404. Greece is at number 29 with 28,833. The 30th richest is Cyprus with 28,045.
Number 31 to 40
Slovenia is number 31 with 27,899. At number 32 is New Zealand with 27,460. Bahrain is number 33 with 26,807. At 34th place is Oman with 26,197. The Bahamas is at number 35 with 25,884.
The Czech Republic is at number 36 with 24,987. Seychelles is at number 37 with 24,837. Malta is number 38 with 24,081. Saudi Arabia is number 39 with 23,742. The 40th wealthiest nation per capita is Portugal with 23,113.