With different pant and coat pocket sizes available today,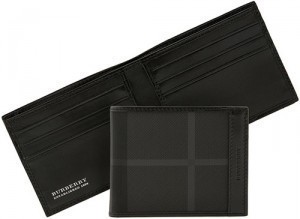 wallet dimensions should also follow suit. Sometimes, one's wallet size should also fit zippered pocket sections in or on one's traveling bag. Here are some wallet size options.
The Classic Two-fold (top-fold)
Most wallet styles are two-fold. A fold regularly measures about 3.5 by 4 inches. When open, the entire wallet size length measures 8.5 inches, with a half inch spine allowance. It can expand to a 2-centimeter thickness. These wallet dimensions fit a pant back pocket of 4 by 4.5 inches. The inside of most wallets have two lateral sections running its entire length. At times, there's an additional "secret" section secured with a zipper with the same length. A picture frame section may cover a fold (4 by 3.5 inches) with several more mini pockets opposite it. These are common wallet dimensions.
Two-Fold Side-Fold
There are wallet size options with the same wallet dimensions outlined above, but designed for a side-fold. A side-fold is divided and folded at the longitudinal side instead of at the top. Inside openings for placing bills is at the spine rather than the outer longitudinal sides. Mini pockets can also be found, some secured with zippers, including the bill sections. Wallets of this type may also be shorter, but not shorter than 18 centimeters—the length most bill denominations will fit in. Two-fold side-folds are best kept in bags or inside coat pockets.
Three-Fold
Three-fold wallet dimensions are smaller, like 7 by 9 centimeters per fold. They are also thinner, about only a centimeter or less. This wallet size can only accommodate a few bills and business cards and a small picture. They are mostly without zippers. Three-folds fit snugly in pant and shirt pockets, and even in small bag pockets. They're perfect for clutch or belt bags.
Longer Sized
There are also models with an extra long wallet size that makes them protrude from back pant or coat pockets. The idea is for easy pulling out. Smaller wallet dimensions sometimes cause some difficulty with pulling out wallets from pockets. The disadvantage with a longer wallet size is it's being prone to theft, like snatching.
A Smart Accessory to a Small Wallet Size
Some models come with attached golden or silver metal chains, especially for smaller wallet size options. The other end of the chain is attached to the belt or a belt loop. This makes them easier to pull out from pockets and harder to snatch by thieves.