The carry on or cabin baggage sizes are not standardized.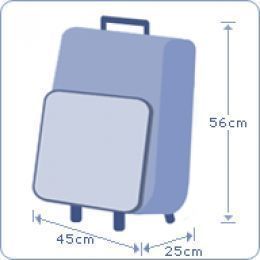 The airlines can set their own rules about the luggage allowable on the plane. That being said, many airlines base their rules on the guidelines set by IATA (International Air Transport Association).
The IATA Guidelines
The IATA is a group that has set up guidelines for luggage that may be carried. According to the IATA rules, the carry on cannot be deeper than 10 inches or 25 centimeters (cm).
The maximum length is 22 inches or 56 cm and the width is 18 inches or 45 cm. As a rule, the total measurements must not go beyond 45 inches or 115 cm. The wheels, handles and pockets must all be included in the total cabin baggage size.
Luggage Dimensions Limit on Virgin Atlantic and RyanAir
While many airlines follow this rule, others do not. For example, some airlines allow luggage measuring no more than 55 centimeters x 40 centimeters x 20 centimeters. Airlines that allow this kind baggage size have a specific weigh limit: it cannot be more than 12 kg.
In Virgin Atlantic, the bag cannot exceed 56 centimeters x 36 centimeters x 23 centimeters. The bag cannot weigh more than 6 kg. RyanAir also allows only one bag. The maximum size is 55 centimeters x 40 centimeters x 20 centimeters. The weight limit is 10 kg.
Cabin Baggage Sizes Used in Other Airlines
At British Airways, only a single bag is allowed. The maximum size is 56 cm x 45 cm x 25 cm. At Austrian Airlines the maximum size permitted is 55 cm x 40 cm x 23 cm. At Air Berlin, only one bag is permitted. The size limit is 55 centimeters x 40 centimeters x 20 centimeters.
Other airlines have set the luggage limit to 56 centimeters x 45 centimeters x 25 centimeters. In Malaysia Airlines, only a single bag is permitted onboard the plane. The weight cannot exceed 5 kg. The maximum size is 56 cm x 36 cm x 23 cm.
Rules about Liquids in Hand Luggage
Only small amounts of liquid are allowed by airlines. In many airlines, the liquid has to be kept in one clear re-sealable bag. In the UK, the maximum size allowed is 8 inches x 8 inches (20 cm x 20 cm). This bag must be presented to security.
Liquid includes mascara, syrups, perfumes, oils, creams, lotions, soup, water and many more. Other substances classified as liquid are shower gel, toothpastes, pastes, and spray deodorants. In many airports, the drinks are screened differently.
When you are at security, take out the plastic bag from your luggage. This will allow the bag to be screened. When you are being checked, remove your jackets and coats. Remember that every item carried by the passenger will be checked by security, regardless of the size.
The info about cabin baggage size given is subject to change. Security threats and changes in airline policies mean the regulations can be modified. To be sure, check with your airline first.