The VHS cassette was developed in the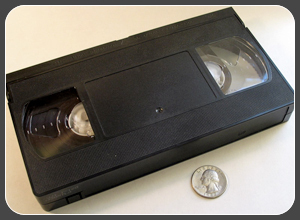 1970s as a videotape-recording standard. The acronym 'VHS' stands for Video Home System, which was launched in the second half of the decade. Compared to the Betamax cassette, it was a better choice during that time because it offered a less complicated tape transport system, a quicker rewinding and fast-forwarding feature and longer playing time. In addition to these fascinating details, there are many other things to learn about it including the different VHS cassette dimensions.
Dimensions of a VHS Cassette
The VHS cassette is 25 millimeters thick, 103 millimeters deep and 187 millimeters wide. It is made up of a plastic clamshell, joined together by five Phillips head screws. It contains a recording medium that measures ½-inch or 12.7 millimeters wide. The VHS cassette comes in different lengths. The T-120 contains a tape length of 247.5 meters or 812 feet, which has a recording time of 120 to 360 minutes. The T-180 has a bigger capacity with a tape length of 368.8 meters or 1,210 feet. It has a recording time of 180 to 540 minutes.
A rare tape label is the T-210 VHS cassette, which has a tape length of 433.1 meters or 1,421 feet. It has a recording time of 210 to 630 minutes. The DF480 is equivalent to the T-240, the tape length of which is 495 meters or 1,624 feet. The recording time is 240 to 720 minutes.
The E-120 has a tape length of 173.7 meters or 570 feet, with a recording time ranging from 83 minutes to 258 minutes. The tape length of the E-180 is 259.4 meters or 851 feet, with a recording time of 129 to 387 minutes. Lastly, the E-240 has a tape length of 348.1 meters or 1,142 feet, which comes with a recording time of 173 to 519 minutes.
Additional Facts and Other Important Details
The VHS cassette is available in various forms. One of the most notable variations is the Super-VHS analog video standard, which comes with an enhanced video bandwidth. Furthermore, it has an enhanced luminance resolution. It makes use of the ADAT format, which gives it the capacity to record multi-track digital audio via the Super-VHS media.
In 1982, manufacturers launched the VHS-Compact, which was primarily developed for use in portable VCRs. It found success in the palm-sized camcorders industry. In addition, there were other VHS variants launched in the past including the Digital-S digital videotape format and the high-definition W-VHS analog videotape format.