A twin stroller is a type of baby transport that is used for traveling two infants in a sitting position while facing forward or facing side by side.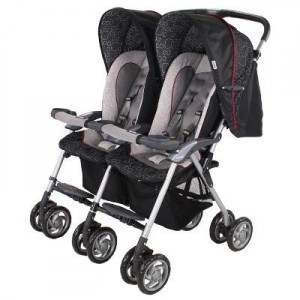 To use the stroller, an adult should push the device forward. This device comes in various styles, designs and dimensions. Different materials are also used when manufacturing this item. If you are interested in buying this merchandise, it is important to know the twin stroller dimensions that are commonly available in baby product stores.
Different Dimensions of Twin Strollers
If the total weight of your twins does not exceed 88 pounds, then you can purchase twin strollers that have a width of 29 inches and a length of 41.5 inches when open. The usual dimensions of these strollers when folded are 29 inches by 30 inches. Each seat has a measurement of 11.4 inches by 19 inches.
On the other hand, if the total weight of your children is 90 pounds, then you should use the strollers with the open dimensions of 39 inches height by 35 inches depth and 31 inches width. The dimensions of this item when closed are 39 inches height by 14 inches depth and 16 inches width.
If you do not prefer a side-by-side twin stroller, then you can purchase a stroller with reversible seats. The usual length of this stroller is 52 inches while the width is 25 inches. The height of this product is commonly 40 inches. To offer comfort to infants, this stroller has a seat height of 15 inches and a seat depth of eight inches. Finally, the canopy clearance of this merchandise is 18 inches from top to bottom.
Additional Tips and Other Important Details
When purchasing strollers for your twins, it is advantageous if you buy the item that provides various seating options. Additionally, it will be better to purchase an item that has movable seats. For ease of access, you can choose the merchandise that have removable but secured front child bar.
When it comes to seating positions, always buy strollers with seats that can be faced towards parents. It is also important to take a look at the harness for the twins. The harness should be adjustable to fit the infants in the strollers. Additionally, before using the stroller, always check the weight limit of the item. Make sure that the total weight of the infants is lower than the weight limit to ensure the safety of your children.