Dimensions of a Beer Stein
Designed for drinking alcoholic beverages, beers in particular, a beer stein comes in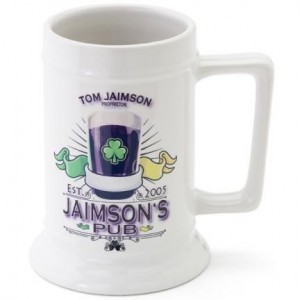 very handy especially when there are special occasions and significant events. This particular type of container adds to your drinking pleasure by setting you in the mood for some quality drinking sessions, whether alone or with special friends. Aside from its wonderful qualities and uses, it is also good to know the dimensions of a beer stein.
Beer Stein Dimensions
What are the dimensions of a beer stein? Today, the standard size of a beer stein can hold up to 33.8 ounces or about one liter. In the 19th century, the standard was much higher at 50.72 ounces or 1.5 liters. However, there are other beer stein sizes available nowadays. In fact, there are gigantic variations, some of which have capacities of up to 31.99 liters or 1,081.71 ounces. Besides this example, there are many other choices available.
Additional Facts and Other Interesting Details
A beer stein can be made from different kinds of materials. Today some varieties are made from stoneware, earthenware and porcelain. In addition, some of them are made up of classy materials such as wood, porcelain as well as pewter. In regions where the people are basically German speaking, there are different ways to call a beer stein. If it is made out of glass, it is usually called glaskrug. Meanwhile, if it is made from earthenware, people usually call it steinkrug. Additionally, it can also be referred to as humpen if made from stoneware.
All around the world, you can find different kinds of beer steins. Some novelty items feature colorful decorations and interesting designs. Based on reports, some of them are not durable enough for drinking. Additionally, some items are not very safe to use, considering the materials from which they were made. Steins with lead glazes pose serious threat to beer drinkers, as they can cause lead poisoning.
Aside from these versions, some of these steins feature beautiful and highly interesting brewery emblems. Many people collect such special edition steins for them to display at home. Furthermore, some steins feature different types of interesting Bavarian motifs like Munich's Marienplatz Rathaus-Glockenspiel as well as the 19th century palace called Neuschwanstein Castle.
As part of the 16-day beer drinking festival called Oktoberfest, which is held yearly from the latter parts of September until the early parts of October, event organizers release souvenir mugs with special designs based on the works of poster design winners.