Usually made from metal or wood, a flagpole is also called by other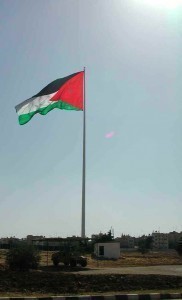 names like flagstaff or simply staff. In order to raise the flag, people commonly use a pulley and a cord. On top of the pole, there is a flat plate referred to as a truck, the original purpose of which was to prevent the pole from the possibility of splitting. Likewise, an architectural device called finial can also be used instead of a truck. Furthermore, it is also good to know interesting facts about the highest flagpole in the world.
What Is the Highest Flagpole?
Today, the highest flagpole worldwide can be found at the Korean Demilitarized Zone or Gijeong-dong, which is within the jurisdiction of North Korea. It stands 525 feet or 160 meters high. It carries a flag that weighs approximately 600 pounds or 270 kilograms. Before that, the government of South Korea established a tall flagpole within the village called Daeseong-dong, which measures 328 feet or 98.4 meters high.
Meanwhile, the tallest freestanding pole can be found in Turkmenistan, which is called the Ashgabat Flagpole. It measures 436 feet or 133 meters high. It erased the record posted by the Aqaba Flagpole in Jordan, the recorded height of which was 433 feet or 132 meters.
However, the record currently owned by the Ashgabat Flagpole is set to be broken by the National Flag Square, which is still being completed in Azerbaijan. The estimated height of this project is 531 feet or 162 meters. The third highest freestanding pole is the Raghadan Flagpole, which can be found in the City of Amman in Jordan. It measures 410 feet or 126 meters high. It carries a flag measuring 200 by 130 feet or 60 by 40 meters. At night, it can be seen even from a very far distance of 16 miles or 25 kilometers.
Additional Facts and Other Interesting Details
With the aid of flagpoles, the flags can be elevated at a much higher level. Furthermore, it allows longer exposure for many people to see. Most of the time, flagpoles feature different kinds of national flags. Some of the most notable flags today include the Dannebrog of Denmark, the Union Flag of the United Kingdom as well as the Tricolour of the Netherlands.
Aside from holding national flags, poles are also used to hold various kinds of international flags such as the World Flag, the Olympic flag and the United Nations Flag. In some countries, they use poles to hold their war flags high including the Soviet Union and the United Kingdom.