The Biggest Airport Lounge
The biggest airport lounge in the world is in Hong Kong International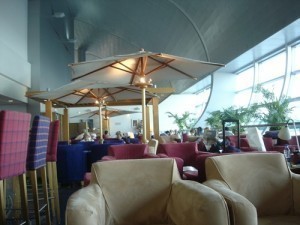 Airport at terminal 1. It covers an area of 15,000 sq ft and can seat almost 300 people. It is close to the departure gate. The lounge was created by Plaza Premium Lounge Management Limited.
Design
The lounge was designed to provide comfort for travelers before they boarded a plane. The lounge is separated into various areas so visitors can decide which best suits them.
Drinks
When people get to the lounge, they will see a bar where they can get drinks. Among the beverages offered are different kinds of coffee, cocktails, spirits, wines and draught beer. Baked pastries are also available. Other drinks offered include hot chocolate, fruit juices, tea and different kinds of soft drinks.
Buffet
The biggest airport lounge also offers all-day buffet. An a la carte menu for supper, dinner, lunch and breakfast is provided for. The buffet includes original Hong Kong delicacies and food.
There are also coffee and tea, assorted drinks, fruits, desserts, various kinds of snacks and soup. The buffet also includes biscuits, hot dishes, sandwiches and salads. There are also plenty of choices for vegetarians.
Business Facilities
Businessmen and techies can avail of Internet access with the lounge's Wi-Fi hotspots. The lounge also has a computer center available. Here people can use fully functional and powerful workstations.
There are also printers that can be used. The biggest airport lounge also has a library. The library is fitted with the most up to date high tech equipment. Among the facilities included are a video conferencing system and LCD TV screen.
The Galleria
The Galleria has large, comfortable couches so there is plenty of leg room. The Galleria also has a wine bar for guests to enjoy. Other features include a 24-hour a la carte menu and a suite where you can rest. The suite has a shower too. This is to allow overworked executives time to rest.
Apart from the leather couches and bar, the lounge also has LCD TVs. The TV doesn't just show the latest in sports, but also movies, news and flight schedule.
The Lounge Spa
One of the most prominent features of the lounge is the in-lounge spa. This includes manicure and pedicure services, haircut facility, massage service and oxygen therapy.
The Haslauer Soft-Pack System is a spa treatment wherein the body is relieved of pressure, making it feel like it is floating. This allows individuals to relax more deeply.
The massage service meanwhile, will relax aching muscles. You can choose from body massage, seated massage, head massage, foot reflexology and many more.
Other Amenities
The lounge also has shampooing, hairstyling and beauty services available. The lounge also has a private meeting room which can be a meeting place for businessmen. It can also be used by VIPs.
The biggest airport lounge in the world also has numerous magazines and newspapers available. This allows guests to keep themselves updated on the latest news and events from all over the world.