How Long is a TGV Trainset?
The TGV is a high-speed rail service in France, which operates under one of the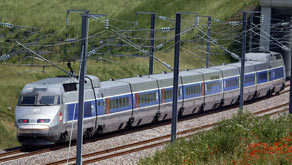 branches of the French national rail operator Societe Nationale des Chemins de fer francais or SNCF. The acronym 'TGV' stands for 'Train a Grande Vitesse,' which means high-speed train in French. On April 3, 2007, a TGV test train posted a speed of 357 mph or 574.8 kilometer/hour, which was recorded as the fastest wheeled train in the world today. Besides these fascinating facts, it is also important to learn the length of a TGV trainset.
The Length of a TGV Trainset
How long is a TGV trainset? The length of the TGV trainset varies depending on the type of equipment. The TGV POS, the Thalys PBKA and the TGV Duplex all share the same overall length, which is 657 feet or 200.19 meters. Likewise, the TGV Reseau and the TGV Sud-Est also has the same length. Amongst the different TGV trainsets today, the longest is the TGV TMST Three Capitals train, which measures 1,293 feet or 393.7 meters. Next is the TGV TMST North of London, the length of which is 1,033 feet or 318.9 meters. Additionally, the TGV Atlantique has an overall length of 780 feet or 237.5 meters.
Additional Facts and Other Important Information
More or less 400 TGV trains are operated by the SNCF, seven of which are part of the French network, namely the TGV POS, Thalys PBA and PBKA, TGV Duplex, TGV TMST, TGV Reseau, TGV Atlantique and TGV Sud-Est. For commercial use, the TGV trainsets normally run at the speed of up to 200 mph or 320 km/h.
Built around 1978, the Sud-Est first operated as part of the TGV service in 1981. Each train has eight carriages with a total capacity of 345. It also has two power cars. Meanwhile, the TGV Atlantique was made between 1988 and 1992. The weight of each train is 444 tons, with a total capacity of 485 with ten carriages and two power cars. It was modified in 1990, wherein the braking system was significantly enhanced and the old wheels were replaced with larger ones.
In 1993, the TGV Reseau became part of the network. It has a total capacity of 377 with eight carriages and two power cars. It has a maximum speed of 300 km/h. Considered as a long TGV, the Eurostar was modified to be used for the Channel Tunnel and the United Kingdom. It features an extensive fireproofing, British-designed asynchronous traction motors as well as a constrictive British loading gauge. In the United Kingdom, it is called the British Rail Class 373. It comes in two major types, namely the North of London and the Three Capitals.