Swiss Army Knife Size Chart
From opening cans to screwing in nails, the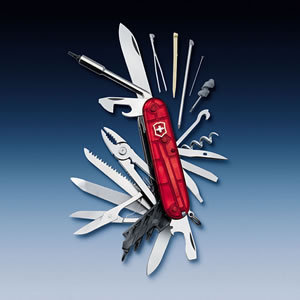 Swiss Army Knife has become indispensable for handymen. It is also valued by pocket knife collectors.
Swiss Army Knife Size: Victorinox Champion Plus Pocket Knife
This Swiss Knife measures 4.4 x 2 x 1.2 inches and weighs 1 lb. The handle is nylon while the frame is comprised of aluminum. There are 30 utilities included. For campers, there are large and small blades, a can opener, large and small screwdrivers.
There is also a corkscrew, a bottle opener, scissors and a punch reamer. Also included are a wood saw, fish scaler, a hook and metal file, a mini screwdriver and a chisel scraper.
There is also a nail cleaner, pressurized ball point pen, a magnifying glass, straight pen and key ring. This Swiss Army Knife has a lifetime warranty.
Swiss Army Knife Size: Victorinox Swiss Army Tinker w Classic Knife
The knife is 2-1/4 inches long. The Tinker has several tools including the Phillips screwdriver, two blades (large and small), Phillips screwdriver and a can opener. Also included is the bottle opener, a wire stripper, a key ring and a reamer. A small screwdriver for Philips screws is also included as well as a toothpick and tweezers.
A nail file and scissors are also installed. All in all, the Tinker comes with half a dozen implements (with a dozen features). The Classic knife has three implements with seven utilities. Its numerous utilities allow for the opening of all types of intricate packages to fastening in various nails.
Swiss Army Knife Size: Victorinox Swiss Army Climber II Pocket Knife
The Chamber II is 3.58 inches long and weighs in at 3.55 ounces. There are more than ten stainless steel tools. They include two blades (large and small) and two screwdrivers. This utility knife also comes with a corkscrew, can opener, a bottle opener and scissors.
There is also a key ring, corkscrew, parcel hook and reamer. The Chamber II also comes with a toothpick and tweezers. This knife is suitable for the camper / hiker, but it's also a handy tool to keep in the glove compartment or your drawer.
Swiss Army Knife Size: Victorinox Swiss Army Classic Pocket Knife
The Classic is 2-1/4 inches long and ¼ inches wide. It is equipped with a blade for cutting as well as a pair of mini scissors. A nail with a screwdriver tip is also included. There is also a toothpick, a key ring and tweezers. The knife can be used for filing nails or slicing a wrapping tape.
The tweezers can be used to get rid of splinters, but it can also be used to pick up objects. The nail file can be useful for those who play guitars, while the screw head is good for Philips or flathead screws. As with other Swiss knives, they are meant to last a lifetime.
Aside from their myriad features, the Swiss Army Knife size is what really sets it apart from others. For such a small utility, it packs in a whole bunch of useful utilities.