For big households, a kitchenette is usually out of the picture.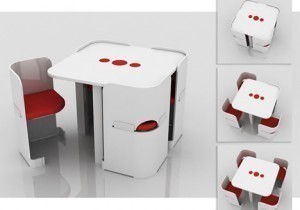 That's because kitchenettes are basically small kitchens that are built within small homes, to feature the essential conveniences of a cooking space.
A kitchenette is often found in apartments, in dormitories, in office buildings, and in motels. Some family homes, however, have learned to embrace the kitchenette idea due to its convenience and very little requirement for floor area.
Basically, a kitchenette houses just a few kitchen appliances such as a small fridge, a microwave oven, a hot plate or a two-burner stove, and although rarely, a sink. Those contents have also become diverse, depending on the purpose that the kitchenette serves.
Kitchenette Sizes
Kitchenette sizes vary according to the overall allowable space by a home. On the average, it only uses about 80 square feet of floor space. That is really small but if you know how to maximize the use of that space, it will go a long way. There is no need for you to be bitter, especially since the latest kitchen design is all about an increased space that allows for more appliances and more activites.
Yes, it is becoming pretty challenging for kitchen designers and homemakers alike to make a kitchenette with the variety of kitchen tools and gadgets available in the market. Then again, paying serious attention to organization can easily help you through this stumbling block. You can definitely include the ingenious new appliances to your kitchenette if you know how to decorate and organize the space well enough.
Your Mini Kitchen
There is so much that you can do to make a mini kitchen or a kitchenette not to look as tiny as it really is. If there is just no way that you can steal a few extra feet from the next room, you can make do with design solutions that will open up the space and maximize your work area as well as your storage area.
To make your kitchenette look bigger, you can add a larger window, install a skylight, or break through the ceiling for the necessary visual expansion. That way, it will not appear as really short in space.
To maximize your workspace, you can try to install an island on casters. Installing as much storage room as possible will also help you out in this case. Free up your countertop so you can use it for meal preparations instead of housing some of your kitchen gadgets. Where you will put your kitchen treasures? Well, that can be easily accomplished by maximizing your storage space.
To create as much storage room, meanwhile, you can get help by using cabinets, pot racks, overhead hooks, and cupboards. Also, make use of interior fittings to organize everything.
A kitchenette is a possibility if you know how to work your way in designing it well.