Super Bowl Trophy Dimensions
The Super Bowl trophy of the National Football League or NFL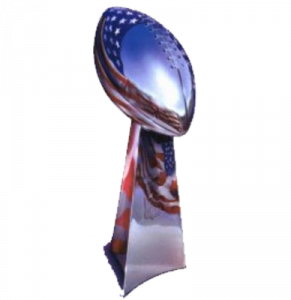 is usually given to the winning team of the annual NFL championship event called the Super Bowl. Since 1967, the trophy has been awarded to winning franchises, starting from the time when the Super Bowl was still known as the AFL-NFL World Championship Game. In 1970, the trophy was renamed as the Vince Lombardi Trophy, in honor of the former Green Bay Packers head coach who died from cancer. Aside from these amazing facts, there are more to learn about it including the different Super Bowl trophy dimensions.
The Dimensions of the Super Bowl Trophy
Designed and manufactured by Tiffany & Co., the Vince Lombardi Trophy stands 22 inches or 56 centimeters tall. It weighs 3.2 kilograms or 7 pounds. Its value stands at $25,000. It features a football made from sterling silver, which depicts a regulation-size ball fixed in kicking position. The estimated time to create this kind of special trophy is 4 months and 72 hours. The base of the trophy features the words 'Vince Lombardi Trophy.'
Additional Facts and Other Interesting Details
The Super Bowl trophy was renamed as the Vince Lombardi Trophy to commemorate the former NFL head coach Vince Lombardi, who led the Green Bay Packers to a couple of championships in the first two installments of Super Bowl. Starting from Super Bowl XXX, it has been the practice of the NFL to award the trophy to the owner of the winning team on the field right after the game. Before this became a regular practice, the awarding ceremony was usually held inside the locker room of the winning team.
Today, the NFL team that holds the most number of Vince Lombardi Trophies is the Pittsburgh Steelers, which owns six. Next are the Dallas Cowboys and the San Francisco 49ers, each of which owns five trophies. The Washington Redskins, the Oakland Raiders, the Green Bay Packers, the New England Patriots and the New York Giants are proud owners of three trophies each.
The Dallas Cowboys is currently the NFL franchise with the most number of Super Bowl appearances, which appeared in a total 8 championships. However, the team only won 5 and lost 3 of these events, which gave the Pittsburgh Steelers a higher percentage, winning 6 and losing only once despite appearing in only 7 Super Bowl events. The New England Patriots and the Denver Broncos each have 6 Super Bowl appearances, with the former having a better percentage of 3 wins and 3 losses compared to the latter's 2 wins and 4 losses.
The San Francisco 49ers franchise has a highly impressive stint in Super Bowl events, which owns a perfect 5-win and 0-loss record. The team is currently tied with the Washington Redskins, the Los Angeles/Oakland Raiders and the Miami Dolphins, each of which has 5 Super Bowl appearances but with lower winning percentages than the 49ers.