A street sweeper is a machine used for cleaning the street.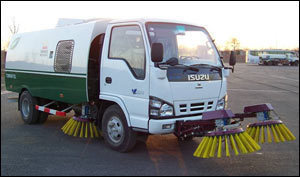 It is run by an operator (to whom the term street sweeper may be applied also). Today's machines can also be used for cleaning up construction sites as well.
TYMCO Model 600 Street Sweeper Sizes
The dust separator has a cylindrical area measuring 20" x 61" (508 mm x 1549 mm). Particles can be removed from the 61" (1549 mm) skimmer. The engine is a John Deere, 4045T, 4-cylinder (tier 3) and the displacement is 275 cubic inches (4.5 L). The horsepower is 99 at 2,400 RPM (74 kW). It has a dry type air cleaner and 261 ft-lb at 1600 RPM (354Nm) net torque.
Blower and Hopper Specifications
The blower is used for making blasts and suction. It also has a heavy duty power band drive, and sealed lube, anti-friction bearings.
The hopper volumetric capacity is 7.3 cubic yards (5.6 m³) and the usable is 6 cubic yards (4.6 m³). The construction is of welded steel. The floor angle is 22°. The dump door opening measures 84" x 44" I.D. (2134 mm x 1118 mm).
The TYMCO Model 600 street sweeper size gives it a dumping height of 36" (914 mm). It dumps its contents using hydraulics with raker bars.
Pick-up Head Specifications
The suction & pressure hose is 14" (35 mm) in diameter. The pick-up head is 87" I.D. (2210 mm) and the head area is 2,610 sq. inches (1.68 m²). It has 4 springs, 2 drag link suspension. There is also a pressure bleeder for picking up leaves and other light materials.
Gutter Brooms and Hydraulic Systems
The broom is 43" in diameter and made of steel wire. Other features include adjustments for down pressure, steady speed non-reversible hydraulic motor and parabolic mirrors.
The cooler is air to oil with a 10,000 BTU (2.93 J). The hydraulics system also has a gear driven drive and its capacity is 8 GPM (30.3 LPM). The reservoir is 5 gal (94.6 L).
The dust control system has an electric diaphragm pump and 220 gal (832.7 L) reservoir. There is also an 80 mesh in-line filter. There are also spray nozzles included with the machine.
Aside from the street sweeper size, the design of the machine has to be looked into. Make sure the machine is environmentally friendly. The engine power varies per system, so get the one that is most appropriate.