The stop sign is commonly found in road junctions. It is a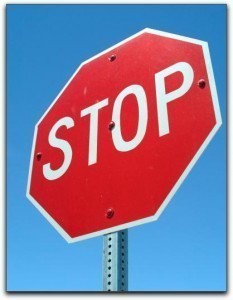 traffic sign, which instructs motorists and drivers to go ahead only if the road ahead is clear. Based on historical accounts, it was invented in the Midwestern state of Michigan in the United States sometime in 1915. In North American countries, this sign is commonly found on school buses. In addition to these interesting facts, it is also good to know the dimensions of a stop sign.
The Dimensions of a Stop Sign
The standard stop sign is printed on a red octagonal field, which has a specified size of 30 inches or 75 centimeters right across opposite flats. The white border surrounding the field has a width of 0.79 inches or 20 millimeters. The letters forming the word 'STOP' are written using white uppercase letters, each of which stands 10 inches or 25 centimeters tall.
For multilane expressways, larger signs are used, which measure 36 inches or 90 centimeters. Their borders are usually 0.98 inches or 25 millimeters wide. Aside from these sizes, there is also an extra-large version, which comes with regulatory provisions. This huge stop sign measures 48 inches or 120 centimeters, with a border measuring 1.18 inches or 30 millimeters wide. The smallest stop sign allowed measures 24 inches or 60 centimeters, the border or which measures 0.59 inches or 15 millimeters.
Additional Facts and Other Important Details
Based on the United Nations Convention on Road Signs and Signals, the usual stop sign must have the English legend 'stop.' This distinctive sign was developed and used first in the United States, after which was adopted by other countries as well as the United Nations. Today, it is used globally.
In North America, this sign is used to manage conflicting traffic movements at intersections, specifically those that are not too busy to require traffic signal installations. In the U.S., it is used for safety purposes. In addition, it assigns motorists their right-of-way. In Canada and the U.S., it is widely used as a safety measure in places where children walk or play, as well as in residential areas. This can actually reduce the occurrence of automobile accidents.
In the United Kingdom, locations that need stop signs must be approved first by the Secretary of State. People can see this sign a lot in rural areas that experience heavy snow during winter season. The first stop signs were different from the modern versions. Before, they use white backgrounds with black letters written on them.