A grapple truck is used to gather various kinds of materials,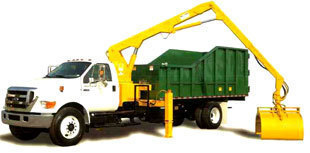 from wastes to wrecked cars. Generally speaking, the truck is used to collect material that will be demolished or disposed of. They are also called grapple loaders.
Grapple Truck Dimensions
Just like other construction and heavy equipment machines, grapple trucks are available in various sizes. The Petersen TL-3 comes with a 20 ft boom and has a 4 ft telescoping extension. When extended to 20 ft, the lifting capacity is 3,200 pounds.
If set to 10 ft, the lifting capacity is 7,100 pounds. The TL-3 has an all-purpose anti-scalping trash bucket. The dump body sizes vary from 20 to 30 cubic yards.
The BL3 model is a 20 foot Knuckleboom that is fixed in the front of the rolloff. The model is available with top mounted or walk-thru controls.
There are many other types available, so the grapple truck dimensions are very diverse. What buyers are looking for is the lifting capacity more than the physical dimensions of the truck.
Design and Purpose
The truck is known mainly for collecting bulk wastes, but it can also be used for hauling other materials. Even if the designs vary, they all have the bucket or grapple that rotates on an axis. This is connected to the end of the boom.
These vehicles are used frequently by public works departments or municipal sanitations. Waste collection companies also make use of grapple trucks. In some cases, grapple loaders are used in repair and road construction.
Grapple Truck Collection Systems
The grapple can be configured to have a dump body where the load is placed. The rear steer system has the grapple set on the back of a short frame chassis. The operator cab is positioned between the chassis cab and loader. The controls are in the cab, including the driving controls.
In the roll off system, the grapple loader is mounted at the rear of the truck cab. The cable roll off is positioned at the back of the grapple. With the rear loader and truck system, the loader is placed on the back of the short frame chassis. What the grapple does is to put the load in different trucks.
The type of system used can also affect the grapple truck dimensions. But more than the length and width of truck, it is the grappling capacity that matters. The configuration is also very important.