A brand of vehicles developed and manufactured b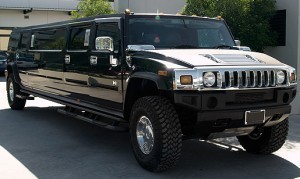 y Motors Liquidation Company, Hummer is very popular because the vehicles have distinct characteristics and specifications. One of the most popular and interesting models of this brand is the Hummer Limo or the Hummer H2. Some of the standard features of the vehicle are the cruise control, the leather upholstery, 8-way power front seats, the memory system and the 6-disc CD changer. Consumers who are interested in buying this vehicle should know the Hummer Limo dimensions so that they have ideas about the actual size of the automobile.
The Dimensions of Hummer Limo
What are the Hummer Limo dimensions? The overall length of the vehicle is 189.8 inches and the overall width is 81.2 inches. The total height of the limousine is 79.2 inches and the ground clearance is 10 inches. The front track as well as the rear track of the vehicle is 69.4 inches. The turning circle of the limousine is 43.5 feet.
Additional Information and Other Important Details
The vehicle has electric fordable mirrors and front fog lights. In addition, the headlights feature a halogen bulb. Other standard features of the vehicle are the premium sound system, the outside-temperature indicator, rear radio controls as well as the steering wheel with radio controls. The vehicle has an auxiliary air cooler. The capacity of the limousine's fuel tank is 32 gallons. The vehicle uses unleaded fuel. For the safety of passengers and the driver, the limousine has an electronic brake distribution system.
Aside from the standard features, the vehicle has optional features. The features include the adjustable airbag suspension, the navigation system, the garage door opener and the power sunroof. The engine of the limousine is 293 kilowatts. When it comes to the weight of the limousine, the curb weight is 6,400 pounds, the total weight is 8,600 pounds and the maximum payload of the vehicle is 2,200 pounds.
Many consumers are interested in the vehicle because it was nominated in some awards including the 2003 North American Truck of the Year. Additionally, it was featured in the video game Midnight Club 3.
The total sales of the limousine in 2002 in America alone were 18,861. A year after, the sales increased to 34,529. In 2004, the sales were 28,898. The sales of the vehicles increased once again in 2005, which were 33,140. In 2006, the sales declined to 17,472. The decrease in sales continued in 2007 and 2008, which were 12,431 and 6,095 respectively.