Before the baby comes, one tough decision that parents, especially mothers, will have to make is whether to breastfeed the baby or not. The decision is doubly hard to make if the mother is a working mom.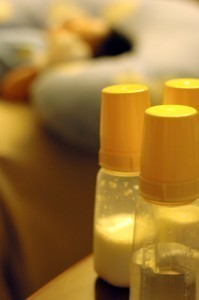 Sometimes, the decision is made for them once the baby comes out because the mother just isn't lactating enough. In this case, pediatricians recommend using infant formula milk to feed the baby.
Sizes of Infant Formula
If you have decided to go with infant formula milk, your pediatrician can best recommend which one is best for your baby. However, it is still advisable that you do your own research about the milk recommended by your doctor just so you'll have an idea of what goes into your baby's body as he feeds on the milk.
To test if the milk is working for your baby, you may want to get a small pack of the milk first. Since sizes of infant formula milk generally come in small packs to large cans or tubs, you can easily find a small pack that your baby can try out first.
Sizes of infant formula in small packs are usually around 12 to 12.5 ounces in cans or carton packs. These packs are usually good for about two to three days for newborns since they don't feed much during the first few weeks after birth.
If the baby likes the infant formula, you can now get to bigger sizes of infant formula which are around 23.4 ounces and 24 ounces, depending on the specific brand of your milk. A slightly bigger can would be about 25.75 ounces.
Refill Packs and Bonus Cans
There are several other sizes of infant formula that you can readily find in the market today.
Usually, makers of infant formula milk have refill packs which you can put in your empty can or tub. These refill packs may come in single cartons or double cartons.
Each carton basically contains 17.5 ounces of powdered milk stored in packets or pouches. A double carton will contain two packs of this size.
A few brands have also come up with their "bonus" cans which gives you at least 31.75 ounces of powdered infant formula milk.
As your baby's appetite increases, you can get two different sizes of infant formula milk which can help you determine how long each pack or can lasts.
This will also help you determine how much of the infant formula your baby consumes on a weekly basis which in turn helps with budgeting for the baby's milk.