By using a snowboard size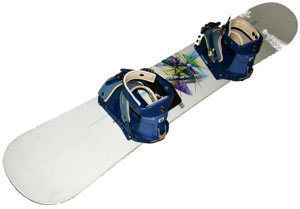 chart, you will be able to find one that fits your body frame. The following is a guide for picking the right board.
Height and Board Length Guide
If your height is 4 feet, the board length should be 109 cm. If the height is 4'2" the proper board length is 114 -120 cm. For those who are 4'4", the 115 – 125 cm board is ideal. For those who are 4.6", the suitable board length is 118 – 135 cm.
People who stand 4.8"are better off with 120 – 135 cm long snowboards. Individuals who stand 4'10" will do well with 125 – 140 cm long boards.
For People 5 Ft and Taller
For those who are 5'2", the 135 – 145 cm boards are suitable. A snowboard size chart will show 140 – 148 cm boards are best for those who are 5'4". People who stand 5.6"are best off using 145 -152 cm snowboards.
For people who are 5'8", the ideal length is 147 -155 cm. Persons who stand 5'10"can use 154- 163 cm snowboards. Those who are 6'0" will be most comfortable with 157-165 cm boards. If you are 6'1", the recommended board length is 160-168 cm. 159 cm or greater are recommended for those who are 6'2" and over.
About Board Widths
This is also important. A narrow board relative to your boot will lead to heel and toe drag. If the board is too wide, you won't be able to apply sufficient pressure at the heel and toe edge. This would lead to a very difficult riding experience.
If the boot size is 8 or smaller, the board width at the waist should be 24 cm or less. If the boot is 8.5 – 10.5, one should go for a regular board, which is 24 – 26 cm. if the boot sizes are 10.5 or bigger, the ideal board width is 26 cm or greater.
Other Considerations
These include gender, as male and female riders have different requirements. One's athletic ability will also be a crucial factor. The type of snow you will be riding on must be evaluated as well. Your budget of course, will also be a factor.
As these facts bear out, a snowboard size chart can be extremely useful in helping you find the right type. But the other factors mentioned have to be accounted for as well.