Also known as a worktop or a benchtop, a countertop is a horizontal work area commonly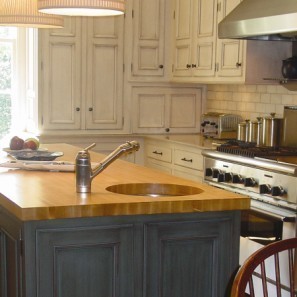 installed in food preparation rooms. This structure is usually installed above cabinets. Some of the materials that are used for this structure are wood, tile, natural stone and crafted glass. Aside from these, other materials that can be used for a worktop are solid surface plastic materials as well as plastic laminates. When installing a benchtop at your place, it is important to know the standard countertop dimensions so that you will have sufficient place for working in your kitchen.
Dimensions
The standard length of a countertop when installed in a kitchen is 25.5 inches from back to front. On the other hand, the height of a worktop should be 36 inches. If you like to install a bar stool next to a countertop, the height of the benchtop should be 42 inches to 46 inches. Additionally, the structure should cantilever at least 10 inches.
To know the working space that you will allot for the countertop, it is essential that you measure the accessories as well as appliances that you like to install on the structure. Moreover, it is important to provide a space for a serving platter between each appliance or accessory. It is advantageous if you allot a 16 inches space in between appliance on a countertop.
Additional Information and Other Important Details
If you like your countertop to look attractive, you can use natural stones like granite, limestone, soapstone, gabbro and marble. Aside from these, the other materials that can make the structure attractive are stainless steel and wood. If you prefer to use synthetic materials, you can use phenolic resin, terrazzo and tile. To ensure that the top will last for a long time, then it is best to use solid surface like acrylic materials, which include polyester acrylic.
Another material that can be used if you like your countertop to be ductile and durable is the engineered quartz. This material has improved impact resistance because it is made from 95 per cent natural quartz and 5 per cent polymer resins.
If you like your worktop to be customized, it is best if you use crafted glass and tempered glass. The materials used in these glasses are stain proof and non-porous. Above all, many homeowners prefer t use tempered glass and crafted glass in their worktops because these materials are resistant to heat. These can resist up to 700 degrees Fahrenheit.