One of the many different kinds of cue sports, snooker was believed to have originated in India,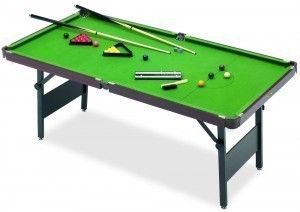 when the officers of the British Army devised an exciting and relaxing game. Some of the high-ranking snooker tournaments today include the Shanghai Masters, the UK Championship as well as the World Championship. First played in the 19th century, the rules and other important aspects of the game are currently governed by the World Snooker Association. Aside from these highly interesting aspects, there are other nice things to know about the game including the different snooker table dimensions.
The Dimensions of a Snooker Table
What are the different snooker table dimensions? According to the rules of the game mandated by the World Snooker Association, a standard snooker table must measure 3.7 meters by 1.8 meters or 12 feet by 6 feet. Aside from the table, it is important to take note of the different balls used in this game, which include 15 red balls and a white cue ball. In addition, the game also features six other balls with varying colors, namely black, pink, blue, brown, green and yellow.
Additional Facts and Other Highly Interesting Details
Aside from the table and the balls, there are other important materials necessary to play snooker. In case the cue ball is very far from the offensive player, it is possible to use an extension. This can actually help the player reach a ball for a more decent shot. Other important items needed in this sport are ball marker, the triangle and the hook rest.
In the 1930s, a British professional snooker player named Joe Davis dominated the sport. In the 1970s, a Welsh snooker player named Ray Reardon defeated opponents with class. Meanwhile, an English professional snooker player by the name of Steve Davis dominated the numerous international tournaments in the 1980s. In the 1990s, a Scottish player named Stephen Hendry dismantled one opponent after another to become the most dominant competitor during that time.
In the 2000s, several notable players emerged in the game. These include the Scottish professional snooker player John Higgins, Welsh World Champion Mark Williams and three-time World Champion Ronnie O'Sullivan. Higgins became a World Champion in 2009, 2007 and 1998. Meanwhile, Williams dominated the ranks in 2003 and 2000. On the other hand, O'Sullivan captured the gold in 2008, 2004 and 2001. Today, the game has many different variations. Amongst the most popular are super 6s, sinuca brasileira as well as snooker plus.