How Big is Wembley Stadium?
Owned by the Football Association,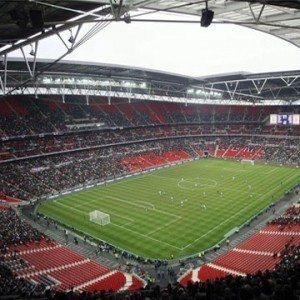 Wembley Stadium can be found within Wembley Park in the City of London in England. Although it was primarily designed to serve as a venue for association football, it is also used to hold various kinds of sporting events as well as music concerts. It serves as the home court of the England national football team for international competitions. After Camp Nou, it is the second biggest stadium in the whole of Europe. In addition to these important facts, there are more to learn about this venue including the size of Wembley Stadium.
The Size of Wembley Stadium
How big is Wembley Stadium? The circumference of Wembley Stadium is measured at 0.6 miles or 1 kilometer. It has a 6,350-tonne roof enough to cover a total land area measuring 11 acres or 45,000 square meters. The moveable roof covers 4 acres or 16,000 square meters. In addition, the stadium also has a circular section lattice arch, the internal diameter of which is 23 feet or 7 meters. It has a span of 1,033 feet or315 meters.
In terms of capacity, this stadium can seat 86,000 individuals for American football games, 90,000 people for rugby league and football and 68,400 to 72,000 people for athletics. In case it is used for concerts, it can seat approximately 75,000 to 90,000, plus another 15,000 standing spectators. The foundations of this sports facility are made up of 4,000 separate piles, the deepest point of which measures 115 feet or 35 meters.
The stadium features 2,618 toilet seats, which no other venue in the world has yet to match or surpass. Overall, the length of its escalators measures 400 meters. Since 2007, it has been home to a number of different tenants including the Football League Playoffs and Finals, the FA Cup Finals and the England national football team.
Wembley Stadium also served as venue for numerous memorable concerts featuring world-class performers and international artists like Coldplay in September 2009, Madonna in September 2008 and George Michael in June 2007. The very first football match that was held inside this venue was a close door game between the staff of Wembley Stadium and Multiplex.
On December 3, 2008, it hosted the very first rugby union game between the teams Australia and the Barbarians. The very first National Football League regular season game held outside of North America took place in this stadium, when the New York Giants emerged victorious over the Miami Dolphins with a score of 13-10. New York Giants quarterback Eli Manning scored the very first touchdown inside this venue.