The Taal Volcano is considered as the smallest volcano in the world. It stands at a height of 1,312 ft, and although that may seem to be very high, it is in fact very a very small size when compared to the world's biggest active volcano, Mauna Loa, which stands 56,000 ft high.
Found in the Philippines, specifically in the island of Luzon, the Taal Volcano is situated at a distance of around 50 km (31 miles) from the nation's capital city, Manila. It sits at the center of Taal Lake, and is surrounded by the towns of Agoncillo, Alitagtag, Balete, Cuenca, Laurel, Lipa, Mataas na Kahoy, San Nicolas (which has jurisdiction over Taal's southern half), Santa Teresita, Talisay (which has jurisdiction over Taal's northern half) and Tanauan. Because of its position in the lake, the volcano is also known as Volcano Island. Studies have also indicated that the Taal Volcano itself may in fact have been only a small portion of a much larger volcano around that entire region.
Despite being relatively small, the Taal Volcano is no less destructive. Indeed, it has had quite devastating eruptions that have even reached for miles, even as far as the country's capital of Manila. Although the Philippine Institute of Volcanology and Seismology (PHIVOLCS) has declared the entire volcano island as a Permanent Danger Zone or PDZ, prohibiting permanent settlement, there are still those who continue to risk their lives residing there, making their livelihood as fishermen or by farming on the fertile volcanic soil.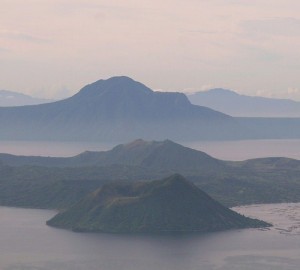 The Taal Volcano is classified as a stratovolcano, which signifies the eruption of molten lava from its top. This also classifies it as a cone volcano, and is markedly different from a so-called shield volcano, which spreads out across a much larger expanse of surface and whose eruptions are relatively less violent. Studies are conducted on the Taal Volcano to verify the causes and try to predict the occurrence of a volcanic eruption, and to figure out how to better evacuate the populated areas in the event of a major eruption.
There have been 33 Taal Volcano eruptions recorded since 1572. The greatest eruption ever recorded took place way back in the year 1754, lasting from May 15 up to December 1. Another particularly large eruption occurred back in 1911, claiming 1,344 lives of the heavily populated area surrounding it. The estimated death toll wrought by the volcano's eruptions is approximately 5,000 to 6,000. Its last recorded eruption was in 1977, but it still remains active even though it has not yet had a major eruption to date. Nonetheless, the area's inhabitants are under constant alert, as the volcano is liable to erupt at any given moment.