Smallest Female Country Singers
There are no official records kept for the smallest female country singers. But the leading candidate is Brenda Lee. She stands 4 feet 9 inches tall. Next would probably be Dolly Parton at 5'1. Loretta Lynn is 5'2".
Brenda Lee: Biographical Information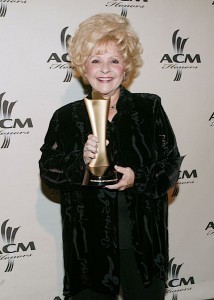 She was born December 11, 1944 in Lithonia, GA. Her singing career began in the early 1950s when she appeared in "Starmaker's Revue", a TV show in Atlanta. It was during the 1960s when Lee truly started making a name for herself with a string of hits. Some of her biggest hits include "All Alone Am I", "Break It to Me Gently," "Fool #1," and "Dum Dum,".
Although her musical style was country, it was also able to cross over to pop easily. One of her best known efforts was "Is It True?". Unlike her other country hits, this was a rocking performance. Recorded in 1964, her guitarist was Jimmy Page. Her final entry into the top 20 was 1966's "Coming on Strong".
During the 1970s, Lee teamed up with Owen Bradley and scored several more hits in the country music charts. Lee has won several awards. In 1984, she was inducted into the Georgia Music Hall of Fame and in the Country Music Hall of Fame in 1997.
Dolly Parton: Biographical Information
One of the smallest female country singers of all time, Dolly Parton was born 19 January 1946 in Locust Ridge, Tennessee. She is one of the most popular country singers of all time and known the world over.
She began writing and recording songs in 1960. In 1967, her album "Hello, I'm Dolly" came out. She also started working with Porter Wagoner in the 1960s and 70s. Together they produced numerous hits.
Shortly afterwards, Parton would embark on a solo career. Some of her most famous hits include "I Will Always Love You" and "Jolene". Her acting debut came in the 1980 film "9 to 5". She got an Oscar nomination for singing the song in the movie.
Since that time, Parton has gone to win almost all the major country awards. She was inducted into the Country Music Hall of Fame in 1999. In 2006, Parton was given the Kennedy Center Honor for artistic achievement. She is also the owner of Dollywood, a famous theme park in Tennessee.
What these facts show is that talent isn't determined by physical size. As the smallest female country singers show, big things can come in small packages.