There are many slot car sizes, with the smaller ones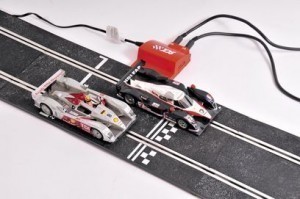 at 1:64 and even smaller. The larger ones use the 1:24 scale. These slot cars come in many other sizes. There is no standard size. The most suitable size depends on how much space is available and what you intend to do with them.
Other Facts about Slot Cars Dimensions
Among slot car owners, many prefer the 1:24 scale. This means the cars are about 7 to 8 inches long. The larger size makes it easier to handle the parts and components. The larger cars also don't need as much maintenance as smaller slot cars.
This slot car size is also preferred in numerous slot car competitions. The only problem with the bigger slot cars is that they will need bigger tracks too. If you don't have the room this can be a problem. But there are 1:24 scale tracks available. You can find these in shops and online stores.
If space is an issue, you can go for the smaller 1:32 scales. These are around 5 to 6 inches long. This size is probably the best for home race tracks. Even smaller is the 1:43 scale, which is about 3 to 4 inches long. The smallest slot car size is the HO scale at 2 to 2.5 inches.
Besides the car length, the slot car specs have precise wheelbase lengths and wheel widths. This will also have to be factored in when you decide what to buy.
Track Size
Make sure you know the sizes of the tracks, because these can take up a lot of space. For example, there are some slot car tracks that measure 30'-40' long by 10'-15' wide. The layout type and the number of lanes may determine the ideal slot car scale.
For those with limited space, the HO or 1:32 scales should be considered. With the 1:32 scale you can get a track 37 feet long. This will occupy 8 ft x 16 ft of space.
If you don't have that space, there are smaller kits available. These kits have typically a couple of lanes. They also have a couple of slot cars. These small kits can be fitted with other accessories if you want to expand them.
In short, the right slot car size depends on how much space you have. By keeping the track size in mind, you'll be able to find the perfect car scale.