Released in 1989, the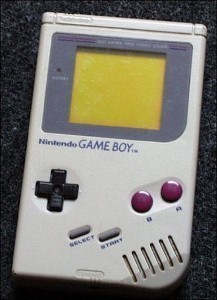 Gameboy is a fourth generation era handheld game console designed and manufactured by Nintendo. It was created by Gunpei Yokoi, which became the very first product in the Gameboy line. He developed it together with the Research and Development 1 team of Nintendo, the very same staff responsible for the creation of the hit handheld electronic game line called Game & Watch. In addition to these fascinating facts, there are other interesting things to find out about it including the size of Gameboy.
The Size of Gameboy
Because it was primarily designed to be a handheld game console, the Gameboy features a sleek design in order to offer players convenience and comfort while playing their favorite games. It has a width of 90 millimeters or 3.5 inches, a height of 148 millimeters or 5.8 inches and a depth of 32 millimeters or 1.3 inches. The size of the screen is 66 millimeters or 2.6 inches diagonal. It features a reflective LCD 160 by 144 pixels display. Furthermore, it has a 2-bit color palette.
Additional Facts and Other Important Details
On April 21, 1989, the Gameboy made its way to the commercial market in Japan. On July 31, 1989, it was then released in North America, while the Europe launch took place on September 28, 1990. It was then called the Tata Gameboy in Southern Asian countries. As the second handheld gaming system ever designed, it successfully combined the features of the Game & Watch and Nintendo Entertainment System. It also became the very first handheld video game device to use video game cartridges since Milton Bradley Co. released its handheld console called Microvision.
This handheld game console features five different operation buttons. It has a directional pad, a 'START' button, a 'SELECT' button, an 'on and off' function, the 'A' button and the 'B' button. On the right side of the device, you can find a volume control dial. On the left side, you can find a similar dial, which is used for adjusting the contrast of the screen.
The Gameboy also comes with optional input/output connectors. Instead of using batteries, it is possible to use an AC adapter or an external rechargeable battery pack. This handheld video game console needs 6V DC power to operate. Together with the sales of the Gameboy Color, the Gameboy sold more than 118.69 million all over the globe. Its best-selling games include the titles 'Pokemon Red, Blue and Green' as well as 'Tetris.' By connecting various adapters, it is possible to connect more than four players.