The fastest jet airplane in the world is the Lockheed SR71-Blackbird. The plane has a maximum speed of Mach 3+. This is equivalent to 1,900+ knots, over 2,200 mph and over 3,530+ km/h. This speed can be attained at a height of 80,000 feet / 24,000 m.
Performance Statistics
The Blackbird has a service range of 2,900 nmi (5,400 km). The ferry range is 3,200 nmi (5,925 km) and the rate of climb is 11,810 ft/min (60 m/s). The service ceiling is 85,000 ft (25,900 m). The wing loading is 94 lb/ft2 (460 kg/m2) and the thrust/weight is 0.382.
Records
Even though the Blackbird was retired in 1998, it held and continues to hold several records. On July 28, 1976, the Blackbird 61-7962 set a record by reaching an altitude of 85,069 feet (25,929 m). Numerous aircraft have gone beyond this.
However, the Blackbird is the only one that can do it in a sustained manner. That very day, the SR-71 61-7958 established a record by reaching a speed of 1,905.81 knots (2,193.2 mph; 3,529.6 km/h).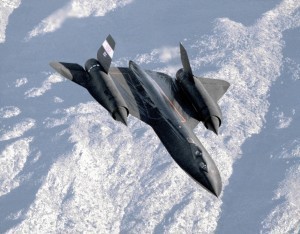 The fastest jet airplane also holds the record for "Speed over a Recognized Course". This was for traveling from New York to London. The distance involved is 5,645 kilometers (3,508 mi).
Traveling at a speed of 1,435.587 miles per hour (2,310.353 km/h), the plane covered it in an hour 54 minutes and 56.4 seconds. This record was established on September 1, 1974. The standard velocity during the journey was Mach 2.68.
To get an idea of its speed, the fastest commercial Boeing 747 flight was 6 hours 15 minutes. For the Concorde it was 2 hours 52 minutes.
Other Information
The Blackbird was designed to be a reconnaissance aircraft. The concept was based on the Lockheed A-12 aircraft. Its high speed allowed the Blackbird to conduct numerous classified recon flights. Such was its speed it could accelerate away from any incoming missiles.
Status
The aircraft was used by the Air Force for 24 years, from 1964 to 1998. Not a single one was lost in battle. A dozen however, were wrecked in accidents. Today there are reports of Lockheed developing a replacement. The most likely candidate is the Lockheed Aurora.
The fastest jet airplane in the world has several variants. All in all, the Blackbird family of aircraft flew a total of 17,300 times. 3,551 of these were mission flights. The total flying hours of the Blackbird planes were 11,008.