Video cameras are a type of camera that record moving pictures enabling you to capture actual events in motion. There are different styles of these types of cameras and the sizes of video cameras are influenced by which style you are looking to get.
Basically, there are pocket video cameras which are highly portable and there are bigger sizes which are also portable but may not fit inside your pocket. There are likewise professional video cameras and these ones are slightly bigger in dimension as compared to the other two.
Sizes of Video Cameras
The various sizes of video cameras have their distinct features, with the smaller ones having just the basic features and the professional models having more features that allow you to produce professional-looking videos.
Pocket Video Cameras
This type of video camera has all the basic features that will allow you to record your moving pictures, usually in high definition digital mode. Depending on the brand, pocket video cameras have an expandable memory up to 32 GB.
Pocket video cameras usually measure around 4.4 inches in height by 0.9 inch in width and can weigh about .24 pound.
Other sizes of pocket video cameras also include those that measure approximately 0.9 inch in height by 2.1 inches in width. This model usually weighs around 0.28 pound only.
Other Portable Video Cameras
If you wish for more features such as higher optical zoom options and a bigger display size, you can choose the larger-sized portable video cameras.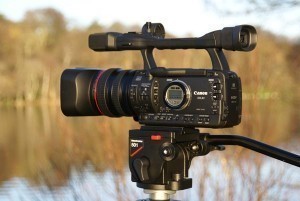 Sizes of video cameras that offer more features are usually around 2.2 inches in height by 1.5 inches in width by 4.3 inches in depth and can weigh approximately 5.3 ounces.
This type usually has one memory card slot. There are likewise sizes of video cameras that are of portable designs that have two memory card slots giving you more storage space for your videos.
This one is relatively larger in size than the previously mentioned portable video camera. This can measure around 7.6 inches in height by 6.4 inches in depth by 5.1 inches in width and weighs about 2.5 pounds.
Professional Video Cameras
Professional video cameras usually have wide angle lenses, can record high definition videos even under low lighting background and can record high quality moving pictures even with rapid motions.
There are several leading brands that offer professional digital video cameras and these typically measure about 10 and one-eighth inches in width by 9.25 inches in height by 18 and three-eighths inches in depth.
This weighs approximately 6 pounds.
Based on the above-given information, sizes of video cameras may vary depending on your specific recording and output requirements.