If you are a gun owner, it is highly essential that you have a special storage space for your gun or guns. This is especially important if you have kids in the house.
There have been numerous accidents involving kids getting access to their parents' guns and playfully pointing this at their friends without knowing the full extent of the risks involved in such game play.
A gun safe will not only ensure that your guns are out of your children's reach but also that they are safe from burglary and protected in the event of a fire.
Size of Gun Safe
Gun safes come in a variety of sizes and you will find that the size of gun safe units is enough to hold a number of guns at a time plus a few other items including bullets.
For a size of gun safe that can hold seven up to nineteen guns at a time, this is approximately 58 inches in height by 24 inches in width by 18 inches in depth for the external measurements.
Internal dimensions for this size of gun safe are around 53 inches in height by 22.1 inches in width by 15.3 inches in depth. This is approximately 410 pounds in weight.
If you wish for a bigger size of gun safe, you can check out models that can hold up to 48 guns at a time. This one measures around 60.5 inches in height by 42 inches in width by 25 inches in depth for its exterior dimensions.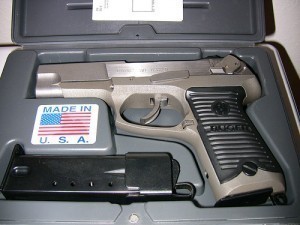 Interior dimensions for this size of gun safe are approximately 56.5 inches in height by 38 inches in width by 15 inches in depth. This unit usually weighs around 710 pounds.
You can find several other sizes of gun safes that are readily available in the market today. The above-given size of gun safe units are just some of the more popular choices selected by gun owners.
Choosing Your Gun Safe
There are several factors for consideration when selecting a gun safe.
For instance, a gun safe that is waterproof as well as fire proof is a good choice not only to protect your guns from such hazards but more importantly, to prevent these from going off or exploding should the safe accidentally be exposed to fire.
Secondly, the locking system should be child-proof to prevent your kids from easily opening the safe and playing with the gun. This should also be very difficult to pry open.
There are electronic locks as well as mechanical locks for gun safes and sometimes, models can have either one of these or both for added security.
Getting a gun safe will not only provide protection for your guns but also keep them away from your children's reach, preventing any accidents.