A trampoline is a nice exercise tool that you can have around your garden to keep the family fit while having fun.
When buying a trampoline, there are varied options available. It can be tricky to choose what size, what kind, what shape, and what brand should you buy. To get to the perfect unit, you must thoroughly understand everything about trampolines and how each unit differs from the rest. The first thing to consider is the size, of course.
Different Sizes to Meet Different Needs
The size of a trampoline is the most important consideration when buying your own. A good size is something that will fit into your space and will meet all your requirements. Since round trampolines are quite more popular than the rectangular ones, we will deal with them here.
Round trampolines are available in a size range between 8-feet to 14-feet diameters. These are the common units you can find in the market.
The 8-foot trampoline is well suited for homes where there are young children who are likely to use the trampoline for fun play. It can carry one child at once. Aside from being compact in size that will easily fit into a small garden, the 8-foot trampoline is also much cheaper than the rest. So if you have a minimum budget, this is ideal for you.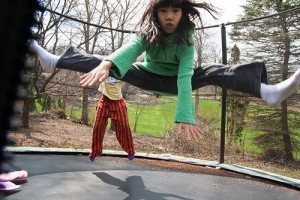 Another size that was designed with big consideration to the younger market is the 10-foot trampoline. Slight bigger than the first, this size is still manageable when it comes to placement. The 10-foot trampoline can be used by two youngsters bouncing together at once.
Next up, we have the 12-foot units. In this case, you are dealing with a bigger bouncing space to tackle at least two adults at the same time. Most people find the 12-foot trampoline the perfect size because it gives out a great bounce that is great for sharing, too.
If you have a big outdoor space and you have a big budget to spend, you can easily decide on getting the biggest sized trampoline, which is about 14 feet in diameter. This unit can carry three bouncers at a time with enough security for stability and control. You would love to have fun with your mates, your friends, and your family members with it – bouncing around.
Make sure that when you buy your trampoline, you are choosing a size that fits right to your children's ages. If you have grown-ups, buying a smaller sized one may not be a wise move. It is better if you spend on a larger trampoline if you have the budget so the adults can enjoy it as much as the young ones.