A hand reamer is a tool for finishing machined or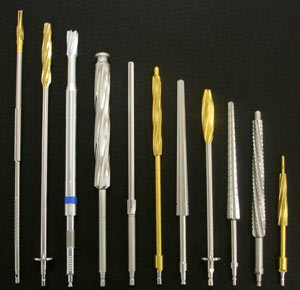 dilled holes to a specific diameter. The tool is composed of a metal shaft made from fortified steel alloy. Hand reamers are used for repairing high precision utilities.
Reamer Dimensions
The size of the reamer is dependent on the hand reamer type: the
adjustable or fixed kind. The fixed reamers are sold in sizes from /16 inch (1.59 mm) to 2 inches (50.8 mm). The adjustable hand reamers are sold in sizes from 1/4 inch (6.35 mm) through 3 11/32 inches (84.93 mm).
Hand Reamer Design
At the portion of the shaft length are blades or flutes. These are configured in a circular way and have a fixed diameter. A square is fitted at the shaft's end and is used to fit a tap wrench handle. Most of the hand reamers are beveled and tapered by the shaft end.
This design is necessary for simpler hole insertions. But there are reamers that are not beveled or tapered. These are utilized if the entire whole has to be reamed. After being put in the hole, the hand reamer is spun by the hand.
A tap wrench handle is used. The shaft blades take out the material needed to make the hole. The time needed to make the holes will depend on the reamer dimensions.
About Fixed Reamers
The fixed reamer comes with cutting flutes in a specified diameter. They are used only for holes that match that diameter. After the flutes are machined in the reamer shank, the cutting edge is put on.
Adjustable Hand Reamers
These come with adjustable blades that are in tapered slots sliced in the shank. The shank and the rings are threaded at the blades' ends. Adjustments are made by loosening the rings and placing the blades in another position.
Subsequently the other ring is adjusted. When the slots are tapered, the cutting diameter is altered. These are used mainly for slicing odd-sized objects if fixed reamers are not available.
Usage
The hand reamer is used for various repair works and for making machine tools that need precision. The tolerance varies, but those around .0008 inches (.02 mm) can be attained. Other reamers will have different specs and capacities.
The various hand reamer dimensions and features mean specific types are used for specific projects. With their high degree of accuracy, the device has become a mainstay in projects that require high precision results.