Personal Role Radio Sizes
Personal role radio sizes may differ depending on the manufacturer's design. Most of these models are 15 inches long and weigh 1.5 kg. The battery life varies depending on the brand, but 20+ hours is not uncommon.
What is the Personal Role Radio?
Also known as the PRR, it is a UHF transmitter / receiver given to the British military forces. It is currently used by the Royal Air Force Regiment, Royal Marines and the British Army.
The ones issued to the British military has a range of 500 meters. There are 256 radio channels that can be accessed. The device is handy because it works even through walls and dense covers.
Development
While the personal role radio sizes vary, all the PRR issued to the British Army are made by Marconi-Selenia Communications. Originally, the PRR was included in the Bowman radio project. The first units were delivered around 2002. Over 45,000 are now being used.
The PRR runs on the 2.4 GHz band.
The device does not have integrated encryption features. The device does not interact with the other electronics on the network. However, the PRR is favored by many because it is useful for small unit tactics and intra squad communications.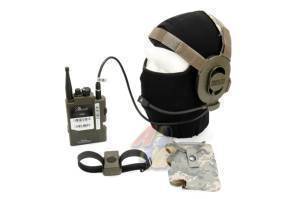 Bowman H4855 and H4855U Operation
To set it up, one has to link the headset. The headset connector must be pushed to seat it. Now you have to put two batteries and switch to the appropriate channels.
The PRR is half duplex radio. That is, one has to let go of the PTT switch so the reply can be heard. Avoid hitting the PTT when there is a transmission from another station. This is going to result in interference.
Remember that the antenna height will set the range. There is also a mic included. It requires proper positioning and cannot be offset by more than an inch.
The PRR Antenna
The device should be placed on the shoulder that will not be firing. It must be positioned so the antenna is over the shoulder top. This is needed so an adequate field of view is provided for. That is the reason the headset audio cord is longer compared to traditional radios. The most ideal location for this would be on a soldier's helmet.
Whatever the personal role radio size is, the device will have a carry pouch. Also remember that this device uses the standard AA batteries. This is different from other radios that use military batteries.