Having a patio door, with suitable patio do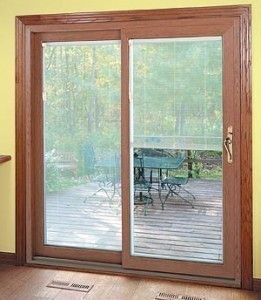 or dimensions, gives you convenience and numerous benefits if you were to compare this with a standard form of door used for entry. In fact, current workmanship with regards to these types of doors provides better improvements.
One of its best features includes its ability to expand one's view of the interior surroundings and provide entry of natural light.
But there's more to merely having the advantages that this bring. Knowing standard measurements or allowable requirements for patio door dimensions also need to be learned.
The Two Basic Types
Sliding Types
One of the basic types for the patio doors in the market would be categorized under the sliding types. Its configuration may be around 5 feet and 59 ½ inches by 79 ½ inches. Others may have dimensions of around 82.5 inches for its height, about 94.3 inches for its weight, and around 2.12 inches for its diameter.
Also referred to as bypass doors or gliding doors, these sliding types are said to be a good choice if you're looking for a door that would give you a better way to let the daylight come into your home without making your eyes hurt from the heat.
What's best with these types of patio doors is that these slide in a parallel motion – making it easier for you to enter and depart. This would be suitable for placement at a deck or small patio area.
Hinged Types
The Hinged types actually work like the standard doors used for entry. But that's where the similarities end. These hinged types come in pairs and appear with a fully glazed look.
Dimensions for these types may be around 5 to ¾ inches and 7 to ¾ inches. Other manufacturers have these specifications: 27 ½ inches by 67 ¼ inches for each door.
Various Specifications on Dimensions
Actually, there are really a lot of things to mention when it comes to checking out the various dimensions of patio doors. Different manufacturers set different standards. This is because a lot of manufacturers follow a wide variety of requirements or size conventions for these types of doors.
In line with this, there is a term known as the call-out dimensions or nominal dimensions that are used by some manufacturers as a main guideline for creating the overall dimensions of patio doors (regardless of the type).
But then, this is not entirely referred to as the standard figures by all manufacturers in the market. In fact, you may also find the call-out dimensions to be a bit different with other creations for this product. Some would use these figures to correspond to internal dimensions instead of the actual dimensions.
So you see, there are a lot of different patio door dimensions that exist. These may be because the manufacturers aim to answer the different needs of customers. In the end, it would be best to get the measurements for the space allotted for the doors first before doing the shopping and deciding.