Today's mice do more than just point and click.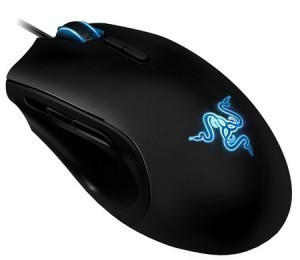 For computer users and buyers, the extra features and functionality that come with the mouse have to be considered too.
Mouse Dimensions: Microsoft Wireless Notebook Optical Mouse 3000
This Microsoft mouse measures 8.7 x 5.4 x 2.7 inches and weighs 8.3 ounces. The mouse has a snap on receiver that can turn the mouse off automatically, saving battery life. The mouse has also been designed for extended use, so the battery life can last for up to six months.
A Microsoft High Definition mouse (1000 dpi), it offers precision up to 6000 FPS, 0.18 microns, 85 MOPS or smaller CMOS. It uses the Microsoft Intelligent Tracking System to facilitate tracking. The movement itself is tracked by a built in optical sensor.
It is ambidextrous in design. There is no need to install software; all that's needed is to plug in the receiver and insert an AA battery in the mouse.
Mouse Dimensions: Logitech VX Nano
The Logitech VX Nano measures 8.3 x 7.1 x 2.4 inches and weighs 13.6 ounces, Made for notebook computers, the receives just has to be put in the USB port. Once that's done, the mouse will be ready for use.
The mouse uses the 2.4 GHz cordless technology so wires are not needed. It also comes with a scroll, suitable for going through a long Web page or file. The scrolling can be done in Free spin Mode or the hyper fast mode. Click to click mode is also available for those who need to navigate in detail. There are backward and forward buttons which can help in browsing the Web.
Mouse Dimensions: Sabrent MS-U3266
The Sabrent MS-U3266 Optical Mouse measures 2.8 x 1.5 x 5.6 inches and weighs 2 lbs. The resolution is 800 dpi, which is double the standard for mice. There is also a retraceable USB cord. This allows the cable to be adjusted to the right length so your desk doesn't get cluttered.
Because it uses optical technology, the mouse can work on a lot of surfaces. The Sabrent MS-U3266 also has a Roller Button, useful for scrolling up and down or left to right Web pages and documents. The mouse also lets you zoom in on files. The optical sensor generates 1,500 signals per second for accurate tracking.
Mouse Dimensions: Logitech MX 518
The Logitech MX 518 Gaming Mouse measures 9.5 x 9.5 x 2.5 inches and weighs 15.2 ounces. Made for gamers, it comes with a 1600 dpi resolution and MX Optical Engine. The mouse can also be adjusted quickly, allowing a player to go from rapid twitch acceleration to precision targeting.
The grip is contoured, the purpose being to provide comfort during long hours of use. Aside from the main buttons there are also other buttons on the mouse. There is also a scroll button. The mouse works with Windows XP (plug and play).
For casual computer users, the mouse dimensions and technical specs may not be that important as long as it can point and click. For notebook users and gamers, however, these stats can make a huge difference.