A kid's belt is an important part of your child's everyday outfit. It is employed not just for the sake of style but for the sake of the main purpose as well, which is to hold together your child's bottom, enabling him/her to walk comfortably.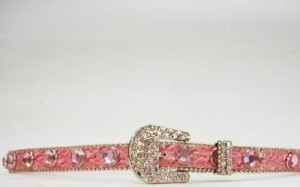 There are different kinds of belts available. There are various styles that are deemed appropriate for different ages and for boys and girls. The most common styles available are those embed with cartoon characters. They are also available in many fancy designs and colors. Some, however, can go for the classic leather.
Sizing your Child's Belt
Aside from style, size is another important consideration when buying kid's belts. Some manufacturers offer a belt size chart for kids, which will help guide you regarding the proper size that is suitable for your child.
Kid's belt sizes are categorized differently, depending on the brand and manufacturer. But to help you in your quest, here are some tips:
* For infants, 0-6 months old, a 20-inch belt is good enough. For 6-12 months old babies, the 21-inch belt is advised. Toddlers, 18-36 months old, may need a 22-inch belt.
* As your child grows, from 3 years old and up, you will have to refer to your child's waist size. As you may have realized, children are different from one another. To find your child's belt size, measure his/her waist. Ideally, you need to add two inches to that measurement to find your child's belt size.
It is quite very important to find the right size. That is the only way you can maximize the value of the belt itself. Belts are intended to hold together the jeans or skirts or shorts, which are too loose, so your child will be able to walk comfortably in his/her outfit.
Choosing your Child's Belt
When buying belts, you must keep in mind that this is an important accessory to any outfit. You will have to ensure, therefore, that you are buying belts that will blend in to most your child's wardrobe in the closet.
For boys, it is nice to have some plain ones, in leather black or brown, which you can use for many classic outfits. You can also go for fancy designs, especially when it comes to girls' belts but make sure they are not too fancy to suit only one dress.
There are various belts available for kids. You just need to be creative in choosing the right ones for you child's personality and size.