Also known as a lounge room or a sitting room, a living room is an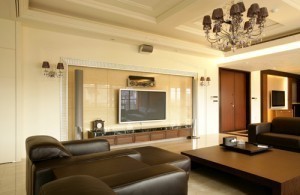 area in the house for reading, entertaining visitors as well as watching television. To make the room more comfortable, furnishings like sofa and home entertainment sets can be added in the place. However, to improve the interior design of the area, it is best to avoid overloading the place with furnishings. Make sure that the decorations suit the size of the room. Discussed in this article are the different living room sizes.
Sizes of Living Rooms
The average size of living room is 16 feet in length and 16 feet in width. Small houses like apartments for students and newlyweds have smaller room size. The usual size of a living room in these houses is 12 feet x 12 feet. In bigger houses, the average size of the living room is 18 feet in length and 13 feet in width. To maximize the space of the living room, it is important to know the basics in decorating and designing the place.
Additional Information and Other Important Tips
The first thing to consider when designing a living room is to remove all the furnishing in the place to determine the total living room size. Sweep the floor and mop to remove dust and dirt. If the flooring is carpeted, you need to vacuum the carpet before decorating the place.
Find the center of the area. This will help you determine the furnishings that will suit the living room size. Prioritize the furnishings that you will include in the room. If you want to have a large seating capacity, then the best thing to do is to allot sufficient space for the sofa. Instead of a small table or a corner table, you can put a carpet and place throw pillows on the carpet. You can place large couches, a recliner and a love seat if seating is your priority.
Aside from couches, the other furnishings that can be added in the living room are bookshelves as well as an entertainment center. When looking for furnishings, make sure that the furnishings are attractive and have the same shade. Assign a theme for the living room before buying furnishings.
To make the place more relaxing and comfortable, you can add different accessories such as a ceiling fan, curtains, wall hangings and lamps. The other accessories that can be added are rugs, wall decorations and accent figurines.