The size of the gaming control or joystick is very important for gamers.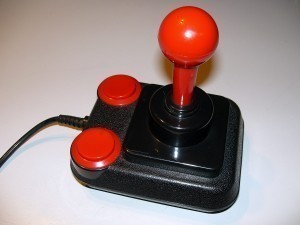 Since it's going to be used extensively, getting one that isn't too heavy or too light is crucial.
Joystick Size: Logitech Extreme 3D Pro
The joystick measures 10.5 x 9.2 x 8.5 inches. The device comes with a dozen buttons you can program. There is also an 8 way rubber hat switch that provides you maximum control. Its twist handle allows you to focus in on the target and there is also a throttle useful for getting into the action.
There is also a quick trigger feature to help you destroy your foes in rapid fashion. The joystick comes with a USB cable and an installation guide. The CD ROM comes with gaming software.
Joystick Size: Saitek Aviator Dual Throttle
The Aviator measures 8 x 11 x 9 inches and comes with four buttons. It also comes with an eight way POV hat switch. It is a dual throttle device designed for flight simulation games. There are four 2 way toggles and it has a quick response trigger. The Aviator also comes with a missile fire button.
The dual throttle controls let you control several engines, ideal when piloting a bomber or airliner. These can also be used to manipulate controls when landing. It can be combined when flying a single engine plane. The 3D twist is designed to give the user pinpoint rudder control.
There is also a mode selector, handy for changing the set up. The included software allows for eight commands to be programmed. The front panel is equipped with toggle buttons complete with switching capabilities.
Joystick Size: Saitek ST90
The ST90 measures 8 x 8 x 8 inches. Its legs are retractable so storage isn't a problem. There is a four position digital throttle equipped with LED. The ST90 also comes with a couple of fire buttons and it is plug and play. The joystick's design is such that it is ambidextrous.
When installed, the device goes through a calibration process. This will allow the games to sense the throttle's presence and use it. When installed, the device also lets you use the keyboard to access other controls. The joystick is compatible with Windows XP and Windows Vista.
Joystick Size: Logitech Attack 3
The Logitech Attack 3 joystick measures 9.8 x 7 x 6.8 inches. The device has 11 buttons you can program and is designed for use in flight simulation games. The foundation is sturdy, so it won't move around when placed on a pad. It also comes with a trigger button. The built in throttle is a scrolling button.
The design means one hand can handle the stick while another one works on the throttle and the other controls. The joystick is designed for use in dog fighting and shoot 'em up space games rather than flight simulators.
Before you buy a gaming device make sure to check out the joystick size and specs. Getting the right joystick will be less difficult if you know what type of control you require.