How High is Mount Elbrus?
Situated within the western part of the Caucasus mountain range in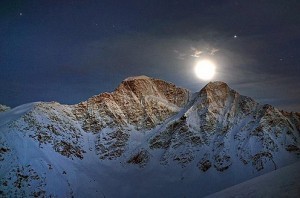 Russia, Mount Elbrus is considered the highest mountain, not only in Russia, but also in the whole of Europe. Locally, it is called by other names like Mount of Happiness or Uashkhemakhue, Jin-Padishah and Mingi Tau or Thousand Mountain. In addition to all these basic facts, there are many other things to learn about this inactive volcano including the height of Mount Elbrus.
The Height of Mount Elbrus
How high is Mount Elbrus? The highest point of the mountain measures 18,510 feet or 5,642 meters, which is found at the west summit. On the other hand, the east summit is lower with a height of 18,442 feet or 5,621 meters. Situated on the border of Europe and Asia, it has a prominence measuring 15,554 feet or 4,741 meters.
Additional Facts and Other Important Details
Mount Elbrus is a stratovolcano, which is primarily a composite volcano. In July 1829, a karachay guide named Khillar Khachirov first ascended the lower of the two major summits. Led by a certain General Emmanuel, he guided the scientific expedition comprised of the Imperial Russian army. In 1874, F. Crauford Grove led an English expedition to reach the higher summit for the very first time.
In 1956, 400 mountaineers ascended the mountain to celebrate the 400th anniversary of the Kabardino-Balkaria incorporation. A cable car system was created between 1959 and 1976. It allowed visitors to reach as high as 12,500 feet or 3,800 meters. The place is notorious for its winter weather, which mountaineers describe as brutal. Frequent strong winds and elevations make the climb more difficult than expected.
Yearly, the average death toll in Mount Elbrus is 15 to 30. A majority of these is caused by poorly equipped and unorganized attempts to reach the mountain's summit. This mountain is entirely different from Iran's Elburz, which sounds very similar to Mount Elbrus. A Land Rover Defender was driven successfully all the way of the mountain's summit in 1997. This amazing feat broke its way to the prestigious Guinness Book of Records.
There are numerous climbing routes available to reach the summit of Mount Elbrus. The fastest, safest and easiest way to do so is to take the Normal Route. To do this, climbers need to use the chairlift system and the cable car. For those who are planning to take this route, it is best to watch out for strong winds, which are frequent especially in the icy sections. The other popular route is referred to as the Kiukurtliu Route.