How Big is a Toaster Oven?
Toaster ovens are electric ovens that generally function in much the same way as standard ovens, only on a smaller scale. These are tabletop ovens that are highly portable and can be used in baking, broiling and of course, toasting.
Toaster ovens normally come with a crumb tray and may come with a digital or analog temperature control setting.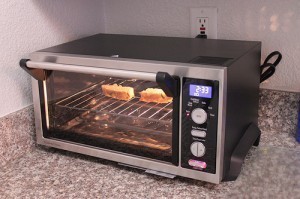 How Big is a Toaster Oven?
A toaster oven comes in various measurements although the differences in dimensions are not considerable. So just how big is a toaster oven?
One of the more common sizes of toaster ovens that are offered in the market today has measurements of about 17 inches in depth, 21 inches in width and 13 inches in height.
There is likewise a slightly deeper but shorter variety and it measures approximately 17.75 inches in depth by 14 inches in width by 11.5 inches in height.
One other set of measurements that may help you get an idea on how to answer the question, "How big is a toaster oven?" is the following: 16 inches in depth by 9.63 inches in height by 17.75 inches in width.
Another size variation that you may also find in the market today measures around 16.5 inches in width by 14.25 inches in depth by 10 inches in height.
Now, when considering "How big is a toaster oven?" do not be surprised if you find other toaster oven sizes apart from the dimensions mentioned here. Sizes also vary depending on the model and brand of the oven toaster.
Functions of a Toaster Oven
As mentioned above, a toaster oven is not just good for toasting bread. You can also bake cookies and brownies here and there are prepared mixes already for these goodies that are specific for toaster ovens.
You can also use the oven to heat leftover food, thaw frozen meat and also broil meat, fishes and vegetables.
Toaster ovens may be small but they can bake pizza to perfection – usually a 12-inch pizza – plus, you can toast up to 6 slices of bread at a time which makes them a truly handy kitchen appliance.
Comparing Toaster Ovens
Apart from deciding your specifications for "How big is a toaster oven?" you should also check the functions, price and durability of the oven before making a purchase.
The internet is your best option here because online, you can find a good number of toaster ovens of various sizes, functions, models, brands and of course; prices which can help you decide on which oven to get.