When traveling by air, people usually carry with them highly valuable items. These objects maybe very important, fragile and usually need extra caution in terms of handling. Numerous reports have already showed how things were damaged, especially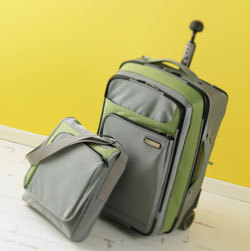 after they were transported together with all the other bags. Laptops, wine bottles and household electronics are items that are not free from the damages, which can be caused by air travel. More importantly, passengers will have no peace of mind en route to their destinations without these important things with them. By learning the size requirements for airline carry-on luggage, they can easily enjoy convenient, worry-free and comfortable travels.
Size Limits for Airline Carry-On Luggage
The International Air Transport Association (IATA) is mainly responsible for setting and improving the guidelines for the size of airline carry-on luggage, which can also be referred to as hand luggage or cabin baggage. These are only guidelines, which make them non-obligatory. In the end, it is still up to the individual airlines to implement their very own set of rules and regulations.
According to the IATA guidelines, hand luggage must not go beyond the maximum length of 22 inches or 56 centimeters. In terms of width, the limit set is 18 inches or 45 centimeters, while the depth limit is 10 inches or 25 centimeters. Summing up these three important dimensions, the result must not go beyond 45 inches or 115 centimeters. These measurements must also include the handles, side pockets as well as wheels.
Until now, there are still no standardized rules concerning the size of airline carry-on luggage. For many low-cost airliners, the average limit set for this type of baggage is 55 centimeters by 40 centimeters by 20 centimeters. In terms of weight, hand luggage must not go beyond the limit of 5 kilograms to 12 kilograms. These rules and regulations not only cover air passengers, but also other flight crews such as flight attendants and air pilots.
Despite these average measurements, there are still no standard rules set for hand luggage. For instance, Austrian Airlines allows cabin baggage as long as it does not exceed the weight of 8 kilograms and the size of 55 centimeters by 40 centimeters by 23 centimeters. For British Airways, a hand luggage must be comprised of a single bag only, with the size of no more than 56 centimeters by 45 centimeters by 25 centimeters. Another example is Malaysia Airlines, which allow only a single bag as hand luggage, and must weigh no more than 5 kilograms. At the same time, this bag must not exceed the size limit of 56 centimeters, by 36 centimeters by 23 centimeters.