How Big is a Mining Truck?
A mining truck is used for a variety of mining operations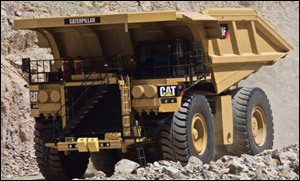 and construction work. As they are made to carry large amounts of dirt and rocks, their capacities are immense.
Mining Truck Sizes
Today's mining trucks have the capability to carry anywhere from 100 to 300 tons. Some of them are so large they have to be taken to the mining site in separate parts and assembled there.
One of the biggest ever built is the Model 33-19 or the Titian. Made by GM in 1974, it is 26 feet (7.9 m) wide, 67 feet (20 m) long, and weighs 509,500 lbs (231,105 kg).
The capacity is 350 tons. The gross vehicle weight is 1,209,500 lbs (548,620 kg). The power comes from a 16-cylinder 3,300 hp GM engine. The Titan has ten tires. Each one is 11 ft (3.4 m) in diameter.
The Biggest Mining Truck
The record holder for the biggest mining truck size belongs to Caterpillar's 797, built in 1998. This truck has a capacity of 360 tons and has a gross vehicle weight of 1.2 million pounds (544,310 kg). It is 30 ft long. The 797 has an auto power shift transmission and mechanical drive.
Liebherr-America Inc. is a company which is known for producing large mining trucks. Many of their trucks have capacities of over 320 tons. One of their biggest is the T282. Built in 1998, it has 3200 horsepower and a capacity of 340 tons. The IL-2600 on the other hand has a 300 ton capacity.
Other Information
These trucks are designed to carry and transport these large loads on unpaved terrain, open-pit mines, gravel pits and construction sites. These trucks are so large they cannot be used on public roads.
These trucks can be powered electrically or mechanically. The number of tires used will vary per model. The material is put in place by other heavy equipment like an excavator. The material is unloaded from the rear or the side.
Although many are in the 100 to 300 ton capacity, smaller versions that can carry 30 to 45 tons are also available. These vehicles are designed for those that don't need the huge capacity offered by the other trucks.
Because the mining truck sizes are so varied, mining and construction operators have many options. Whether you need the 300 ton variety or the smaller ones, they are variants at your disposal. Be sure to check out the full specifications though.