A hot tub is perfect for soothing your aching muscles as you relax, soaked in its heated water. It is bigger than your regular bathroom tubs and smaller than a swimming pool.
Usually, hot tubs are placed on decks or patios, backyards or front yards or any other part of the exteriors of homes.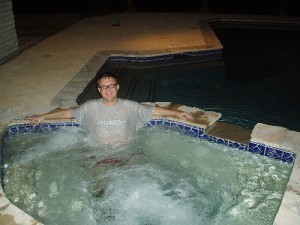 What size of hot tub is suitable for you?
How Big is a Hot Tub?
A hot tub comes in various sizes and two factors need to be taken into consideration when looking at sizes: the space you have reserved for the hot tub and the number of people you want your tub to accommodate at a time.
So how big is a hot tub?
Generally speaking, people choose hot tubs that can accommodate five up to seven persons at a time. This being said, the most popular sizes are those that can comfortably fit a maximum of five, six or seven persons.
To answer "How big is a hot tube?" that can accommodate five persons, this one usually comes in measurements of 87 inches in width by 87 inches in length by 36 inches in depth.
For "How big is a hot tub?" that can comfortably sit six people at a time, you can find this in dimensions of 90 inches in width by 90 inches in length by 37 inches in depth.
As for "How big is a hot tub?" good for seven adults, this one measures approximately 92 inches in width by 92 inches in length by 41 inches in depth.
Smaller Hot Tubs
If you wish to have a smaller hot tub, there are also those that can fit 2, 3 or 4 people at a time.
For a two-person hot tub, you can find this in measurements of approximately 73 inches in length by 49 inches in width by 28 inches in depth. This is cozy enough for two, ideal for couples.
A three-person hot tub on the other hand, measures around 81 inches in length by 61 inches in width by 30 inches in depth; while a four-person hot tub is approximately 75 inches in length by 75 inches in width by 32 inches in depth.
All of the above sizes also come in various colors and each one has its own features so apart from choosing which size will best suit you; you should also look at the features as well as the aesthetics of the tub so you can get one that you will truly enjoy – either on your own or with friends and family.