A baby is a blessing. It is one of the most precious gifts that you can enjoy in this life. To compensate for the big blessing, you must prepare for every baby arrival in your house. Buying a crib that will serve as your little one's personal haven until he or she is big enough to sleep on a bed.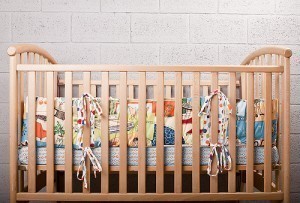 How big is a crib that you will need? A standard size for cribs is 51-5/8 inches in length and 27-¼ inches in width. Since the 1970s, the standard size for cribs has been issued to conform to the strict safety codes established as the time. As a result, you may find just a single size for all baby cribs. That's unless, of course, you are having one custom-made for your home.
Crib Safety Concerns
Aside from the size, there are other factors that have been taken into consideration to impose the strict standards for safety. Here are some of them:
* The crib slats must be 2-3/8 inches apart. The distance of one from another should not be more than that to ensure that your baby's limbs or head would not be caught in between them.
* There should be no sharp edges in your crib, especially among the metal hardware. The locks must also be in a place where no baby can reach and accidentally unlock.
* The crib should not have railings or end panels or any kind of surface, which the baby may use to climb out.
* The crib mattress should fit snuggly. That means you must pick the standard size of 51-5/8 inches x 27-1/4 inches for your mattress with not more than 6 inches of thickness. If your mattress is not of the exact size as your crib's size, there is a danger that your baby will get strangled in it.
* The best crib is not always the most expensive crib. Make sure to take time when shopping and examine your choice carefully. Keep in mind that some crib manufacturers have inferior quality control. If you are not cautious, you might put your baby in danger.
* Look for stabilizing bars beneath the springs of the crib.
* The crib's railings must be sturdy enough. You also have to make sure that they have rounded edges instead of rough ones. There should also be a teething rail, which should not have jagged edges.
* Check out the crib's finish. It must not contain lead because that can be harmful for your kid. You can ask your health department to check pain chips for lead content.