One of the U.S. states found in the Midwestern region,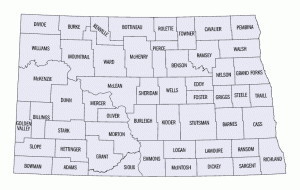 North Dakota is bordered with Canadian province Manitoba and Saskatchewan at the north, Montana at the west, South Dakota at the south and the Red River of the North at the east. Fargo is the state's largest city while Bismarck is the capital. One of the sources of water in the place is the Missouri River. To learn more about the geography and demographics of the state, let us look at the size of North Dakota in terms of estimated population and total area.
The Size of North Dakota
What is the size of North Dakota? With a total area of 183,272 square kilometer, North Dakota ranked 19th in the largest U.S. state. The length of the place is 545 kilometers while the width is 340 kilometers. White Butte is the highest peak with a height of 3,506 feet and the Red River is the lowest point is the Red River with a depth of 750 feet. The state's mean elevation is 1,903 feet.
The western region of the place is rich in fossil fuels like lignite coal as well as crude oil. The central region is known for attractive hills and lakes found at the Missouri Plateau as well as the Drift Prairie. The Red River Valley is one of the most popular places in the eastern part of North Dakota. The valley is important to the agricultural sector of the state because it has fertile soil.
Additional Facts and Other Interesting Details
The size of North Dakota can also be measured in terms of population. The total population in the place in 2008 is estimated to be 641,481. The population density is 3.58 per square kilometer. One of the reasons behind the slow population growth in the place is the emigration of graduates due to the shortage of skilled jobs available.
The ancestry groups present in the state are the French, Swedish, Native American, Irish, Norwegian and German. The racial composition include African Americans, Pacific Islanders and Asians, Hispanics, Alaskan Natives as well as Americans.
Tourism is one of the contributors to the economy. Some of the nice places to see in North Dakota are the Empire Arts Center, the Plains Art Museum and the Chester Fritz Auditorium. In addition to these places, tourists can also listen to music performed by ensembles like the Fargo-Moorhead Symphony Orchestra, the Minot Symphony Orchestra and the Greater Grand Forks Symphony Orchestra.