While of course the size of your garage will be the ultimate determination of garage door sizes, there are some pretty standard measurements to know and be aware of. You'll need to know something about garage door sizes before you buy one. Without having an idea of the dimension, you could end up with an unusable door.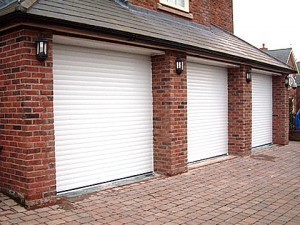 Garage Door Sizes – The Golf Cart Size
The typical dimensions are 5 x 7 feet, 4 x 8 feet and 6 x 8 feet. If the opening isn't an exact fit, you can get one that's 12 inches smaller. You can also get one that is 5 x 6 feet. You can also find a golf cart size that is 6 feet wide.
Garage Door Sizes – Single Car Door Size
The typical ones range from 8 x 7 ft, 9 x 7 ft and 10 x 7 ft. These garage door sizes are also available in 8 x 8 ft, 9 x 8 ft and 10 x 8 ft. As with the golf cart size, the width will vary by about a foot.
Garage Door Sizes – Double Car Door Size
These are usually sold in the following sizes: 12 x 7 ft, 14 x 7 ft and 16 x 7 ft. They are also available in 18 x 7 ft, 12 x 8 ft, 14 x 8 ft, 16 x 8 ft and 18 x 8 ft. Some shops sell them with varying widths.
Notes on the Measurements
You probably won't find garage door sizes that come in the 7 ft 3 in dimensions. The reason is that most doors make this configuration impractical. Your location will also determine the door type you can buy. In high wind areas, an 18 ft wide garage door may be unavailable.
Also note that garage door measurements may vary in your state. This happens because certain areas require manufacturers to comply with specific building codes.
Tips for Buying Garage Doors
Remember that the sizes are always given width first (i.e., 18 x 8 means 18 ft wide and 8 ft high). To find the right garage door size, just measure the opening. If you are not sure, contact the manufacturer or dealer. It's a good idea to call the dealer. They'll conduct the measurement for you usually free of charge.
There are other things you need to consider. The style for example; these doors come in ribbed, flush and raised panels. The thickness of the garage door is also important. The material itself will be crucial. They can come in aluminum, composite, wood, metal or fiberglass. Steel is one of the most durable but wood is also popular.
You'll also want to assess the color and finishing. This will be one of the most visible components in your house so get one that fits the overall design.
Garage Door Sizes – Safety and Other Features
When looking for garage doors, read some reviews first. Get familiar with its security features, the warranty and the spring mechanisms. You can also ask recommendations from friends. Don't overlook the safety features; these are very significant.
Look for extra features like quiet sliding, emergency disconnect, strength and others. Garage door sizes are just one component; these other elements are just as important, if not more so.